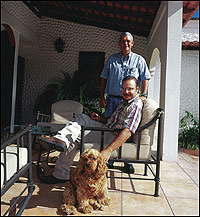 Nestor Plasencia (background) and his son Nestor Plasencia Jr.
Nicaragua: The New Start for Nicaragua
This Central America country makes a strong comeback in the cigar business
(continued from page 4)
"I still have to build my offices, everything," says Berger, moving through the dark, empty rooms of the larger building. His wife, Karen, a young, slim blonde, helps him run his operations: Berger has to travel to Managua several times a week for dialysis, and when his health improves he hopes to focus on finishing the new factory. In the meantime, Karen practices her cigar-rolling technique.
The existing building is rough around the edges, but Berger has grand hopes. "I'm not looking for a pretty factory," he says, "I'm looking for quality."
Under the Radar

Father and son team Charlie (left) and Carlos Toraño. "We're going to take you to what we call our stealth factory," says Charlie Toraño, a tall, lanky, soft-spoken 36-year-old. His grandfather was one of the biggest names in Cuban tobacco in the final years before Castro nationalized the industry, but Toraño worked as an attorney before becoming vice president of Toraño Cigars in 1996. "I remember asking my father if I would have a chance to work with him. I distinctly remember him saying, 'I don't think so.'" The revival of cigar sales allowed him to join the family business. "It's one of those businesses that gets under your skin," he says.
The car pulls up to a building without a sign. A passerby would never give it a second glance, but inside 140 very active cigarmakers are making such brands as C.A.O. Criollo and Carlos Toraño Nicaraguan Selection.
Toraño Cigars has owned the factory—called Latin Cigars de Nicaragua S.A.—for six years, and has expanded the production by 200 percent since opening. Fidel Olivas and his sons run the day-to-day operations. Unlike most cigar factory managers, who have Cuban roots, Olivas, a burly, large-framed man with a shock of thick black hair, was born and raised in Nicaragua. He has worked for Nestor Plasencia and at the Joya de Nicaragua factory.
He has a new boss: In late January, the Toraños partnered with client C.A.O. International Inc. to form C.A.O. Fabrica de Tabacos in Nicaragua and in Danlí, Honduras. In Honduras, half the building is now used exclusively for making C.A.O. cigars. In Nicaragua, the front of the rolling gallery is inhabited by C.A.O. rollers.
"Two years ago this place was so much smaller," says Tim Ozgener, the vice president of C.A.O. cigars. Standing in front of the rolling gallery wearing jeans, a loosely buttoned white shirt and a pair of Italian sunglasses, his shaved head gleaming, the 34-year-old looks like a Hollywood star who has wandered off course. "It was teeny. C.A.O. was maybe two tables."
Today, half the workers are making C.A.O.s, including the company's Gold line and the L'Anniversaire Maduro, which had been made at Tabacalera Perdomo. The Toraño partnership gave C.A.O., which has always had its cigars made under contract, the ability to acquire and stockpile its own supply of tobacco, as well as more control over how its cigars are made.
You must be logged in to post a comment.
Log In If You're Already Registered At Cigar Aficionado Online