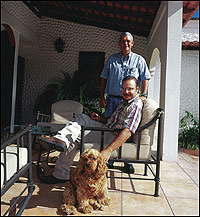 Nestor Plasencia (background) and his son Nestor Plasencia Jr.
Nicaragua: The New Start for Nicaragua
This Central America country makes a strong comeback in the cigar business
(continued from page 2)
Perdomo's goal is to be as self-sufficient as possible. "We make our own cellophane, we have a box factory, we do just about everything," says Argenti. He proudly shows off a cigar roller making a cigar with a Cuban-style, three-seam cap for the company's most expensive cigar ever, the Perdomo Reserve Edición de Silvio, and displays a pair of $30,000 laser engraving machines that are etching logos onto cigar boxes. Cutting boards are made of steel, rather than the traditional wood.
The factory is four years old. Perdomo, facing growing pains, had to move from its smaller facility in Estelí (it's now used by Jonathan Sans, who makes his Acid brand of flavor-infused cigars there) and before that had to expand out of Miami to meet demand for its smokes. "We started with five people," says Argenti. "Now we have close to 600."
He walks out of the factory into a blaze of midday sun and steps through muddy soil and around several deep puddles still waiting to drain after a heavy rain. (A pair of swans sit, quite happily, in two of the largest ones—Nick Perdomo Sr., who runs the factory, is fond of animals, and has several roaming around the grounds of the factory.) A curing barn sits behind the large factory. Perdomo has begun to grow its own tobacco. Inside the barn, recently picked leaves hang from the rafters. Charcoal fires smolder in holes dug into the dirt floor, trying to cut the heavy humidity and raise the temperature of the barn.
"This is a very blue-collar business," says Argenti. "You get up early in the morning; you have to be a taskmaster to earn the people's respect. The reality is the very successful guys who make cigars are blue-collar, very nuts-and-bolts kind of guys. The very flamboyant guys are not going to go to a third-world country and start something from scratch. The reality of the industry is much different than the perception."
The only factory in Nicaragua that can make Perdomo look small is Nicaraguan American Tobaccos S.A., known as NATSA, in Estelí. One of its owners is Lew Rothman, the owner of JR Cigars, the largest cigar retailer in the United States. Rothman's motto is: "Supplying the widest variety of tobacco products to people from all walks of life; fast, fresh and cheap." NATSA is one of the reasons for his success.
It's impossible to imagine a busier factory. Cigarmakers sit nearly shoulder to shoulder as hundreds of pounds of tobacco—whole leaves, shreds, a mix of both—disappear in the hands of the workers, transformed in a flash into cigars. NATSA includes three buildings, with some 1,000 workers, 700 of them cigarmakers. They create a variety of cigars by hand: some made from long filler and others a combination of long and short filler that are known as Cuban sandwiches. The factory hums with activity, like the proverbial beehive.
The eight-year-old NATSA has been expanding. "In the last two years, we've doubled the amount of the factory, the people, everything. We expanded the building by one-third," says Lazaro Lopez, who has moved here from Tampa, Florida, to temporarily run the company. The manager, Triki Bermejo, was nearly killed in a car crash that left him with a broken skull and pelvis, among other grave injuries. The factory has gone on without him.
Nicaragua's Oldest Cigar

Alejandro Martinez Cuenca smokes one of his Joya de Nicaragua cigars. The Joya de Nicaragua logo is painted proudly in red, green and white on the brick facade of Tabacos Puros de Nicaragua S.A., one of the largest cigar factories in Nicaragua. Much of the space inside is empty; 20 cigarmakers sit in a room that could easily accommodate a hundred more, slowly rolling dark, strong cigars. Still, the factory is busier than it has been in years.
You must be logged in to post a comment.
Log In If You're Already Registered At Cigar Aficionado Online