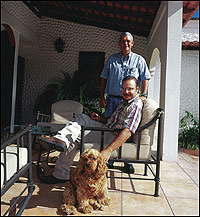 Nestor Plasencia (background) and his son Nestor Plasencia Jr.
Nicaragua: The New Start for Nicaragua
This Central America country makes a strong comeback in the cigar business
(continued from page 1)
That's a lot of tobacco. Much of it rests in pilones, waist-high bulks created by the careful layering of hands of tobacco leaves, placed stems out, tips in. Periodically, Jorge and his father, Jose Orlando Padrón, the silver-haired, mustachioed patriarch of the company, will test some of the contents of a random pilone, smoothing out a wrinkled leaf of tobacco from one of the buried hands, still warm from the fermentation process.
The fermentation is key to developing smooth, rich flavor. The pressure of the leaves (a pilone weighs more than a ton) and the water added to the tobacco initiate fermentation, which causes a chemical change in the tobacco, burning off impurities and smoothing the flavors of the leaf. One can smell the ammonia coming off freshly cured tobacco, an aroma that differs considerably from that of a mature pilone, one that has gone through several rounds of temperature changes. Done properly, it can take as long as two years for heavy tobacco to be fully fermented.
The Padrón factory has air-conditioned work areas, unusual for Nicaragua. A system of wells beneath the floor collects rainwater, which the company uses to work its tobacco. (The local drinking water is chlorinated, and is avoided to keep it from changing the flavor of the tobacco.) But the factory is far from complete: the back office has only one desk, few chairs and just one phone line. The elder Padrón is walking through the factory, measuring tape in hand, plotting an additional wall here, a window there.
"The most important thing is to get the factory rolling," says Jorge, refueled by a hearty lunch of salted garlicky steak, rice and beans, and bananas. He's smoking what could be his eighth cigar of the day. "Once that's done we'll start all the finishing touches."
Despite all the extra space, there won't be many extra Padróns produced. The family-owned Miami company plans to make only 4.4 million cigars in 2003, about 10 percent more than it made in 2002. Only half a million will be Anniversaries.
"We could make 20 million cigars if we had to," says Jorge, "but we'd rather make those 20 million over four years."
The Giants
Tabacalera Perdomo S.A. owns one of the largest cigar factories in Nicaragua. In addition to making its own cigars—Perdomo Estate Selección, Perdomo2 and Dos Rios, to name a few—the Estelí factory also crafts smokes for a host of clients, from C.A.O. International Inc. to retailing giant Thompson & Co. to distributor Philips and King. The factory is packed with rollers, who work under fluorescent lights that hang very low, as in a billiard room, just a few feet over their heads.
"People are shocked at the number of cigars and brands that we make," says vice president Mike Argenti, alluding to Perdomo's simple rule of thumb. "A lot of guys, they're captive to a couple of brands, and if those brands wane, they're out of business. You need to make cigars."
You must be logged in to post a comment.
Log In If You're Already Registered At Cigar Aficionado Online