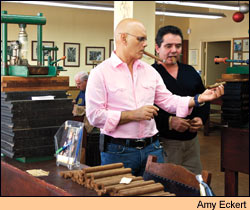 The family of Ernesto Perez-Carrillo has made cigars in Miami for 40 years.
Made in Miami
Florida's Little Havana is emerging as a showcase and "mad lab" for major brands that use boutique fabricas to roll cigars — sometimes quirky ones — and introduce visitors to the theater of cigar making
(continued from page 3)
The back-to-basics approach in Little Havana is one of the things that make it special to cigar smokers. "It's all hand-rolled by Cubans—no machines are involved," says Garcia. His tiny fabrica, with all of a dozen rollers, has taken the cigar world by storm, first with the Tatuaje brand (made here for Pete Johnson), then with its own brand, Don Pepin Garcia (the lancero is Cigar Aficionado's current No. 8 cigar of the year).
While Miami is an outstanding outpost for rolling cigars, Garcia, like the Perez-Carrillos, Padróns and Reyeses who came before him, now makes most of his cigars offshore, in Nicaragua. Still, the Miami centerpiece remains. "Miami," says Garcia, "is still the cream of the crop."
Rolling cigars in Miami is far more expensive—a roller in Miami might make $100 a day, says Padilla, compared with $5 a day in Nicaragua. Diez says the salary difference is only one part of the equation—higher rent and taxes also figure in. But the prestige makes it worth the cost.
The surrounding area is also home to a number of small cigar factories. One of them, Flor de Gonzalez, has rolled in Hialeah (about a 15-minute drive from the cigar factories on Calle Ocho) since 1993. The company, whose American-made cigars have scored well in Cigar Aficionado, presently has three rollers and at busier times has had as many as five.
Also working on a very small scale is Philip Wynne, the owner of the Felipe Gregorio brand. Wynne still makes most of his cigars in the Dominican Republic, but in September, he opened Casa Felipe on Calle Ocho, between 9th and 10th avenues (between El Credito/El Rey de los Habanos and Padilla). The space is a showcase for his passions: visitors can walk into the brightly lit room, with its black-and-white checkerboard tile floor, light up a cigar rolled on the premises, play a game of dominoes and drink a glass of fine wine. (Wines are also available by the bottle.) There's also a selection of coffee, plus the many varieties of Felipe Gregorio cigars that are made in the Dominican Republic. Wynne has one cigar roller, working four days a week, and says he plans to expand soon to two rollers working daily.
"Miami is crucial for a number of reasons," says Wynne. "Besides Tampa, it is the traditional center for cigarmakers in the U.S....Tourism is of prime importance and the historic Calle Ocho corridor attracts a lot of attention. We are constantly getting tourists from all over the U.S. and world."
The idea behind having a roller working on premise helps foster the knowledge of cigar smoking. "Consumers are starved for cigar info, and in Miami they can touch and feel the heart of this process," says Wynne. "Many do not have a chance to travel abroad to visit factories, so by being in Miami they can experience what our cigar factory is about—hence they will appreciate more the cigars purchased on-site. I believe the more of us that have showroom factories here, the more our presence is a plus for the industry."
For Padilla, investing in Calle Ocho is something that gives him pride. "It's important to keep this neighborhood," he says, gesturing around him with his ever-present cigar. "The ethnic neighborhoods seem to be disappearing." He laments how New York City's Little Italy has shrunk to a fraction of its former size, and is a shadow of its former glory. He wants Little Havana to remain Cuban, and for that it needs cigars.
"For me, it was important to build something in Little Havana, because I'm Cuban," he says. "And it's important for the cigar industry to be here."
You must be logged in to post a comment.
Log In If You're Already Registered At Cigar Aficionado Online