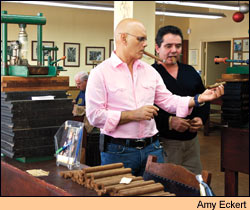 The family of Ernesto Perez-Carrillo has made cigars in Miami for 40 years.
Made in Miami
Florida's Little Havana is emerging as a showcase and "mad lab" for major brands that use boutique fabricas to roll cigars — sometimes quirky ones — and introduce visitors to the theater of cigar making
(continued from page 2)
To find rollers, Diez simply turned to the local Cuban workforce. "They walk to work," says Diez. "We're doing everything Cuban-style. The rollers, in my opinion, are better than anywhere in Latin America…. It allows us to put out a better product."
While a cigar made without Cuban tobacco will never taste completely like a Cuban cigar, many of the cigars made in Miami certainly exhibit some Cuban-style touches that you don't get from most Central American or Dominican factories.
The first element is the true hand roll done in Miami; you almost never see a Lieberman or Temsco bunching machine on a roller's table in Miami (the hand-powered devices are ubiquitous in the Dominican Republic). The process is done entirely by hand, and is performed by one worker who—in the Cuban style—both bunches and rolls the cigar. In Honduras, Nicaragua and the Dominican Republic, one worker typically makes the bunch while another rolls the wrapper around the cigar.
"There's no pairs in the Cuban way of making cigars. You bunch it, you wrap it; [such a cigarmaker] is a lot more familiar with the way of making cigars," says Padilla.
In addition, Miami cigar factories make cigars with mounted heads, also known as three-seam caps, which is how it's done in Cuba. Few factories elsewhere make cigars this way.
Perez-Carrillo feels a close bond with cigar rollers, and admires their artistry. He waxes poetic about the old days, when Cuban rollers made cigars stubbornly in their own way. One man even used rubber bands instead of molds, for that's how he was taught. There was considerable pride in the process.
"Just the way they sat at the table—they were made to be making cigars. There was such a finesse, such a flow. Pre-Castro cigars were made in a certain way," says Perez-Carrillo. "After that, there was a different style, in my opinion.
"At one time, in the early '70s, there were 26 cigar factories here. There was Camacho, Padrón, El Moro—those were the pioneers," says Perez-Carrillo, who in March will depart as head of El Credito to make new cigars with his son and daughter. He's leaving behind not only his venerable brand name, but the Calle Ocho fabrica he's called home for decades. At one time in the mid-1990s, it had as many as 35 cigarmakers and made every La Gloria Cubana, but to expand the brand he had to add much larger production capacity in the Dominican Republic. Owners General Cigar Co. and Swedish Match AB have said they will keep the iconic cigar factory, the anchor to any cigar tourist's trip to Little Havana.
"We [now] have four, five cigar factories in a two- or three-mile distance," says Perez-Carrillo, puffing away on a La Gloria. "When Pepin started making cigars here, it revived the Miami thing. That definitely helped a lot." Pepin is Jose "Pepin" Garcia, Perez-Carrillo's next-door neighbor, a superb roller originally from Cuba, who opened his own factory, El Rey de los Habanos, in 2003.
Jose "Pepin" Garcia is a relative newcomer to the Miami cigar factory scene.
You must be logged in to post a comment.
Log In If You're Already Registered At Cigar Aficionado Online