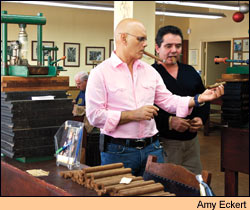 The family of Ernesto Perez-Carrillo has made cigars in Miami for 40 years.
Made in Miami
Florida's Little Havana is emerging as a showcase and "mad lab" for major brands that use boutique fabricas to roll cigars — sometimes quirky ones — and introduce visitors to the theater of cigar making
(continued from page 1)
"Miami is crucial for a number of reasons," says Wynne. "Besides Tampa, it is the traditional center for cigarmakers in the U.S....Tourism is of prime importance and the historic Calle Ocho corridor attracts a lot of attention. We are constantly getting tourists from all over the U.S. and world."
The idea behind having a roller working on premise helps foster the knowledge of cigar smoking. "Consumers are starved for cigar info, and in Miami they can touch and feel the heart of this process," says Wynne. "Many do not have a chance to travel abroad to visit factories, so by being in Miami they can experience what our cigar factory is about—hence they will appreciate more the cigars purchased on-site. I believe the more of us that have showroom factories here, the more our presence is a plus for the industry."
For Padilla, investing in Calle Ocho is something that gives him pride. "It's important to keep this neighborhood," he says, gesturing around him with his ever-present cigar. "The ethnic neighborhoods seem to be disappearing." He laments how New York City's Little Italy has shrunk to a fraction of its former size, and is a shadow of its former glory. He wants Little Havana to remain Cuban, and for that it needs cigars.
"For me, it was important to build something in Little Havana, because I'm Cuban," he says. "And it's important for the cigar industry to be here."
You must be logged in to post a comment.
Log In If You're Already Registered At Cigar Aficionado Online