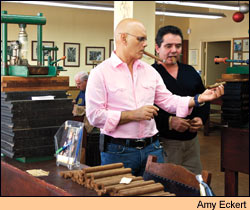 The family of Ernesto Perez-Carrillo has made cigars in Miami for 40 years.
Made in Miami
Florida's Little Havana is emerging as a showcase and "mad lab" for major brands that use boutique fabricas to roll cigars — sometimes quirky ones — and introduce visitors to the theater of cigar making
(continued from page 1)
Padilla has already lined up his first contract project—the Nub Miami. Nubs are squat, short smokes rolled by Oliva Cigar Co. in Nicaragua. The brainchild of Sam Leccia (who rolled the prototypical Nub shape himself, in his garage), Nubs appeal to a hip audience, and Leccia thinks Padilla's Miami-made spin on the Nub will be a hit.
"It's not going to be about mass distribution. It's really just fun. I'm a big fan of collector's cigars," says Leccia, puffing away on a Nub. The Miami Nub will likely be a miniature diadema, something with power but refinement. He and Padilla hadn't settled on the final shape or blend at press time. "We're still tweaking it," says Leccia, estimating that Miami Nubs could be on the market by June.
"I want to be able to come to Miami and see Nubs being made," says Leccia. "You have such a deep Cuban tradition in Miami."
Cigar culture in Miami is old, but not as old as you might think. Simon Camacho is credited with opening the city's first cigar factory, but that didn't take place until 1961. (At that time, the vast majority of American cigars were rolled in Tampa; before that, in the nineteenth century, most had been made in Key West, until hurricanes forced the industry to move north.) In 1964, three men opened factories within months of one another in Miami: José Orlando Padrón, Efraim Gonzalez, who later created the Dos Gonzalez brand, and Juan Sosa, who now works for Arturo Fuente. Four years later, Ernesto Perez-Carrillo Sr., a former member of the Cuban senate, opened El Credito Cigars Inc., bringing the La Gloria Cubana name to the United States.
The expensive labor of Miami doomed it as a major outpost from which to make cigars, and companies moved offshore to expand. Padrón shifted production to Nicaragua. El Credito moved to the Dominican Republic (while keeping a small Miami factory.) Consolidated Cigar Corp. (today Altadis U.S.A. Inc.) closed El Moro Cigar in the early 1970s, shifting production of Primo del Rey from the Florida city to the Dominican Republic. Reyes Family Cigars, long known as Puros Indios Cigars and before that as Cuba Aliados, made cigars in Miami during the late 1980s, but relocated to Honduras.
Carlos Diez, of Reyes Family Cigars, uses his Miami factory to roll stronger cigars than are made in the company's Honduras facility.
In November, Reyes Family Cigars started making cigars again in Miami for the first time in nearly 10 years, installing wooden roller's stations and employing six locals to make specialty cigars for sale there and on a national basis.
"People just like hearing that cigars are made in Miami. It does add prestige to a cigar," says Carlos Diez, president of Reyes Family Cigars. "I've always wanted to do it. I'm not in Honduras every day. I want to get away from the whole sales thing, and get more into manufacturing. Having the factory here was a positive for me."
Diez had to deal with a dissenting opinion at first—that of his grandfather, Reyes Family patriarch Rolando Reyes Sr., who runs the company's cigar factory in Danlí, Honduras. "At first he was doubting it—he's a control freak," says Diez.
"I can make my own brands here that [my grandfather] doesn't want to do. They're stronger—a lot stronger. These blends aren't being made in Honduras," he says. "The fact that we have the rollers here allows me to make very limited runs, very little projects that I'm excited about."
You must be logged in to post a comment.
Log In If You're Already Registered At Cigar Aficionado Online