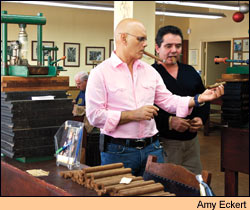 The family of Ernesto Perez-Carrillo has made cigars in Miami for 40 years.
Made in Miami
Florida's Little Havana is emerging as a showcase and "mad lab" for major brands that use boutique fabricas to roll cigars — sometimes quirky ones — and introduce visitors to the theater of cigar making
If you love great cigars, you owe it to yourself to watch them being made. But your favorite brands are likely to be rolled in places not meant for tourists. Some of the best-known cigar brands are born in the working-class towns of Honduras and Nicaragua, worlds away from the nearest luxury hotel, or behind the forbidding walls of a free-trade zone in Santiago, Dominican Republic, where visitors are not typically invited. What's a curious cigar smoker to do? Go to Miami.
You already know it's the place where La Gloria Cubanas, Tatuajes, Don Pepin Garcias and a host of lesser-known smokes are already made, but in the past six months a trio of new cigar factories have opened: Casa Felipe, Fabrica de Tabacos Padilla and Reyes Family Cigars. These tiny factories—ranging in size from one to six cigar rollers—put the aficionado at center stage to the production process. Visitors are more than welcome to walk in, watch how cigars are made and puff away in the heart of cigar town U.S.A.
"There's a certain romance to making cigars in Miami," says Ernesto Perez-Carrillo, the former owner of the La Gloria Cubana brand and the longtime don of Miami cigar making. "A lot of people say if you can't get cigars from Cuba, you can get them in Miami made by Cubans."
Miami has long been a great place to see cigars being made. Now it's become a must-stop for cigar lovers.
Ernesto Padilla looks completely at ease sitting in a dark leather chair in the front section of his new cigar factory, Fabrica de Tabacos Padilla. The 36-year-old cigarmaker has a black goatee, a thick head of shortly cropped black hair, and seems always to be smoking a cigar. Padilla (pronounced Pah-DEE-yah) created his brand in 2003, but originally had the cigars made under contract by various cigar factories. This new space, which has been open since October, represents an entirely new level of commitment to making cigars. It's one part high-end cigar shop, one part smoky cigar lounge and one part cigar factory.
"The idea is to have people hang out and smoke as they watch cigars being made," says Padilla, looking around the 2,600-square-foot space while lazy ceiling fans spin high overhead. "People need to understand [that cigars are] a luxury product. You don't need it to breathe, you don't need it for food. You should appreciate it—and I think people should appreciate how much work goes into making a cigar. It's something I've always wanted to build."
The room is stunning, more akin to a swank Manhattan cigar club than a gritty Central American cigar factory. Outside, bold, red awnings advertise the factory, which is located on Little Havana's historic Calle Ocho, or Eighth Street, across the street from Domino Park, where locals gather for spirited games of dominoes. The corner building, which dates from 1926, previously housed a social club and a pharmacy. The terrazzo floor is original, revived from decades of abuse, as are the glass blocks in the store windows on the factory's Eighth Street side.
A huge, cedar cabinet awaits the cigars that will be made here—at press time, Padilla had hired rollers, and had the permits required to import tobacco, but was waiting on another permit from the Bureau of Alcohol, Tobacco, Firearms and Explosives to begin production. (He hoped to be rolling with four cigarmakers by mid to late March.) "I'm eager to get going," he says. "Probably the most important thing I've done since I made the brand is to open my own factory."
Padilla's vision is not that the small factory will become the sole manufacturer of his cigars—many will continue to be rolled offshore. But he sees Miami as an untapped gem, a showcase where he can interact directly with the people who love his smokes. He also wants to make special Miami versions of cigars for other cigar companies.
"I want it to be kind of a mad lab, [where we] can do something as silly as [a run of] 100 boxes," says Padilla. "I think there's an audience for it. My strength is in my size—being a small boutique maker."
You must be logged in to post a comment.
Log In If You're Already Registered At Cigar Aficionado Online