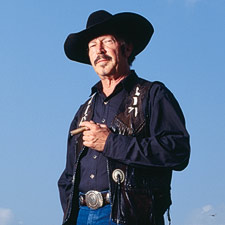 Lone Star Long Shot
Better known for his irreverent country songs and mystery novels, Kinky Friedman sets his sights on the governor's mansion.
(continued from page 2)
"Somehow Hughie Rodham wasn't quite the historical predecessor I was hoping for," Friedman recalls.
Yet despite the best efforts of several of our country's chief executives, the Kinkster has failed to cash in on his White House kitchen pass and score a cushy job or choice appointment. This may well be his own doing. His self-destructive tendencies are revealed in one of his favorite presidential anecdotes concerning an evening soiree a few years ago:
"Back when Bill Clinton was president," he says, "I was invited to this wonderful dinner. Clearly my reputation had preceded me because I was seated at the president's table. Turns out the woman seated next to me was Sherry Lansing, who at the time was in charge of Paramount Pictures. Now, the president had been telling Sherry about my mystery novels, how they featured a transplanted Texan who lives in New York, someone remarkably similar to myself who in fact also happens to share my name. The next thing you know, I've got the head of Paramount Pictures talking to me about a movie project based on a character named Kinky Friedman. 'Who do you think should portray the Kinkster?' she asks. 'That's easy,' I said. 'Lionel Richie.' She never said another word to me the rest of the night."
Last fall, on his most recent visit to the White House, Friedman tried to finagle a deft political sleight of hand when he caucused with former Texas Gov. Bush and informed president No. 43 of his gubernatorial ambitions. A presidential endorsement was not forthcoming.
"The president's hands are tied," Friedman admits. "He's the leader of the Republican Party. He's got a Republican governor in office here in Texas. So he can't really come out and campaign for me or endorse me. He has to be careful. That's why I appreciate his offer to be a one-man focus group."
The Republican stranglehold on the Texas Legislature, however, combined with the GOP's occupation of every major statewide office, may actually benefit Friedman as well as other outsiders in the next elections. A storm is brewing across Texas, one fueled by voter discontent. At the conclusion of this year's legislative session, no progress had been made on voters' top priority: education spending. As this editorial in June from one Texas newspaper, the Lufkin Daily News, demonstrates, citizens and opinion makers are incensed:
"Gov. Rick Perry and members of the state House and Senate knew going in that their mandate was to find a fair and effective way to replace a public school finance system that absolutely everyone agrees is broken. They couldn't do it."
Friedman is already on the attack. Education reform is his campaign's top priority, and he's considering every option to the ineffective system in place today. At a campaign stop in Galveston, he suggested eliminating public funding of school sports. His novel solution? Have school athletic programs underwritten by corporate sponsors such as Nike or Wilson.
This sort of outside-the-box thinking is typical of his untraditional campaign. The candidate has already been in contact with like-minded Texans, individuals who could possibly serve in an upcoming Friedman administration, including fellow musician Billy Joe Shaver for Texas poet laureate, artist Bob "Daddy-O" Wade to head up the Texas Arts Commission, and Ray Benson, "the world's tallest living Jew" and the lead singer for Texas swing band Asleep at the Wheel, as culture minister.
"Willie Nelson has already agreed to come on as my energy adviser," Friedman announces. "Look at oil prices: over $50 a barrel. Ten years from now, it'll be a dollar a drop and the Saudis will be playing the jukebox. The answer is bio-diesel. Truckers love it. Environmentalists love it. And Texas, which led the country in oil production for decades, needs to take the lead in this as well. No one has supported America's farmers like Willie has. He kept thousands of family-owned farms in business with Farm Aid. And he's going to do it again with bio-diesel."
You must be logged in to post a comment.
Log In If You're Already Registered At Cigar Aficionado Online