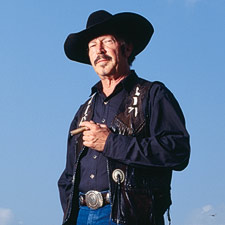 Lone Star Long Shot
Better known for his irreverent country songs and mystery novels, Kinky Friedman sets his sights on the governor's mansion.
The Alamo. A great place to make a stand. Or take a stand, which is exactly what Richard "Kinky" Friedman did earlier this year when he kicked off his campaign for the 2006 Texas governor's race. No doubt the overwhelming odds that faced the Alamo's defenders served as a fitting reminder to Friedman of his own chances in next year's election.
But political suicide was not a concern of the crowd gathered at the cradle of Texas liberty that February day as Friedman announced his candidacy. They weren't just family or friends or staffers or shills, but people interested in hearing the man that CBS News touts as having "a mouth like a sailor, a wardrobe like Johnny Cash and a cigar like Winston Churchill." Others were there, too, fans of Friedman's music and his writings who hope this political outsider will soon become the ultimate insider. What they got then and since is a series of position statements and campaign platforms whose insight and wit tell us as much about America as they do of the man dishing them out.
Of course Friedman rails against the status quo, labeling Democrats and Republicans "decaf or regular, paper or plastic." He's just as cynical about Gov. Rick Perry, a man whose principal decision on a daily basis, according to Friedman, is "whether or not he should wear French cuffs." Yet Friedman is also willing to take on tough topics, the ones political hacks prefer to eye from a distance. Let's start with school prayer:
"When I'm governor, it'll be legal for schoolkids to pray to the god of their choice. What's wrong with having a kid believe in something?" he asks. It's the sort of comment that draws appreciative nods and brings new believers into the fold.
He's also just as likely to dismiss issues he considers superfluous to the political realm. Would he have used his gubernatorial powers to intervene on behalf of Terri Schiavo? "I'm running for governor, not God," he responds.
One secret of Friedman's success and a key reason his campaign appearances draw large crowds is that at the precise moment you begin to take him too seriously, he lets go with a patented one-liner, such as this observation on one of the most contentious topics in politics today:
"I support gay marriage 'cause I believe they have a right to be just as miserable as the rest of us."
Another standby is his pat description of his skill set: "I'm a 60-year-old with the reading level of a 62-year-old." Most audiences are easy pickings after such self-deprecation.
However, you don't win statewide office in Texas using a laugh meter. It takes a checkbook -- a fat one. Politics is big business in the Lone Star State, a phenomenon that dates back to the early days of LBJ and his political foes, Pappy O'Daniel and Coke Stevenson. The last governor's race cost the candidates' backers more than $100 million, a sum far beyond the means of most political neophytes (Ross Perot and Michael Bloomberg excepted). One thing is for sure: neither political party will look kindly on anyone who costs its respective candidate votes, money or airtime.
"The powers that be are going to try to tear you to pieces," Bill O'Reilly warned Friedman during an appearance on "The O'Reilly Factor" in March.
You must be logged in to post a comment.
Log In If You're Already Registered At Cigar Aficionado Online