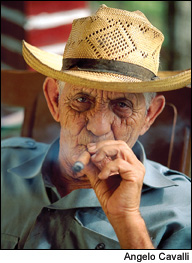 Robaina circa 2006.
Legendary Cuban Farmer Alejandro Robaina Dies
(continued from page 2)
I asked his grandson a few years ago what his grandfather had taught him as a tobacco grower, and Hiroshi almost went into tears.
"Truth is that it has been easier for me than for my grandfather," Hiroshi said. "He acquired his experience from his father and grandfather and from his own work throughout his life. For me, I feel it has been a lot easier because he has passed on to me the essence of all those years of experience. I have not had to experience the hardship he went through in his life."
He added that family traditions in the countryside have been mostly lost in Cuba, but that they were always working hard to stay together as a family. "It those traditions in life that keep us all going." he said.
Robaina is survived by his son Carlos, 54, and his grandson Hiroshi, 33, and three great-grandchildren
Comments
1 comment(s)
Joy Robaina Campbell — Portland, Ore., — November 28, 2010 1:21am ET
---
You must be logged in to post a comment.
Log In If You're Already Registered At Cigar Aficionado Online