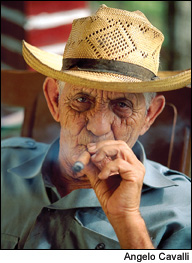 Robaina circa 2006.
Legendary Cuban Farmer Alejandro Robaina Dies
(continued from page 1)
Would-be guides would inundate tourists in the nearby town of Pinar del Río with offers (for a fee) to be taken to the farm of the legendary farmer. There was even a farmer a few miles away from Cuchillas de Barbacoa who impersonated Robaina, welcoming unknowing foreigners and selling them cigars. He even wore a straw hat similar to Robaina.
But it never seemed to bother Robaina. 'This is Cuba," he said during one of dozens of visits to his plantation. "Conjo! What can I do about it?"
Robaina finally built a small and simple visitor's center where people could relax and smoke a cigar, or even have a meal when they visited his plantation. There were times when dozens of cars and buses would fill his parking area in front of his tiny block-like house. "Sometimes I wish I could just grow my tobacco," he said.
His family owned his plantation since the mid-1800s. The size of the farm has changed very little over the years. The Robainas grow about 40 acres of tobacco each year. The leaves were dried in the three large wooden curing barns near the house. Before the Cuban Revolution, the Robaina family sold its leaves to an American tobacco broker, but in the early 1960s, it began supplying the government with tobacco, like all other farmers on the island. Robaina knew members of all the great tobacco families who left the island after the revolution including the Plasencias, Toraños and the Rodrigueses. "They were all good people," he said. 'I was sorry they felt they had to go."
Habanos S.A., the global marketing and distribution company for Cuban cigars in Havana, created a cigar brand in Robaina's honor—Vegas Robaina. The lid of the box shows Robaina standing in his plantation with tobacco growing. It's a misconception that his tobacco was used exclusively for the brand. In fact, Robaina believed that none of his precious tobacco went to Vegas Robaina.
Robaina, like other tobacco farmers in Cuba, was supplied seeds for the harvest each year, and in recent years used mostly Criollo '98 and Corojo '99. But his dream was to go back to the original tobacco variety for wrapper—Corojo—which was abandoned about a decade ago due to its susceptibility to blue mold. "I wish, one day, I could get my hands on those seeds!" he said.
Photo by James Orr European editor James Suckling made it a point to visit Alejandro each time he visited the island.
The last time I saw Robaina, about a month ago, he was still excited about this year's tobacco harvest and explained how the weather had been the coldest he could remember for a long time. He was still smoking about five cigars a day.
"Chico," he said. "I am not going to stop smoking now. I have been smoking since I was 10 years old."
He also spoke about his grandson, Hiroshi, who took over the reigns of the plantation about three years ago, and how he was managing the plantation so well. "Hiroshi works better than me," he said.
Comments
1 comment(s)
Joy Robaina Campbell — Portland, Ore., — November 28, 2010 1:21am ET
---
You must be logged in to post a comment.
Log In If You're Already Registered At Cigar Aficionado Online