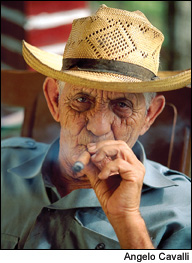 Robaina circa 2006.
Legendary Cuban Farmer Alejandro Robaina Dies
Alejandro Robaina, Cuba's most acclaimed tobacco grower, died on Saturday April 17 at his home in San Luis, Cuba, following a long battle with cancer. He was 91.
Robaina had been the face of the Cuban cigar industry for almost two decades, welcoming thousands of visitors each year to his plantation, Cuchillas de Barbacoa, in the heart of Cuba's finest tobacco region, Pinar del Río. Until recently he also flew around the world as the guest of honor for many cigar events, from Madrid to London to Rome, and beyond. The humble Cuban farmer, the namesake of the Vegas Robaina cigar brand, had become the unofficial global ambassador for Cuban cigars.
"I am through traveling around the world now," he told me in early March during a meeting at his finca. He was smoking a small panetela ("mi fuma") that he rolled himself from tobacco he grew on his own plantation. "I don't need to travel anymore," he said. "The world comes to me."
Robaina came to the forefront of the Cuban cigar industry in the mid-1990s when the government gave him an award as the island's best tobacco grower, or tabaquero. Former president Fidel Castro gave the man the award himself. Robaina was a staunch supporter of the independent tobacco grower in Pinar del Río, Cuba's premium tobacco growing region, arguing that they produce more and better leaves than state-owned farms. Robaina, whose tobacco plantation was planted almost entirely with wrapper tobacco, usually produced a yield of tobacco leaf of about 80 percent, while others would yield only 10 or 20 percent.
"We are a close family and we work together, but the other reason is the love I have for the land and the care I put into it," he said in an interview in 2006. "If I didn't prepare the land with a percentage of organic fertilizers as I do, it would have been impossible to accomplish the results I had in such a bad year."
Castro himself, according to Robaina, had a number of meetings with the farmer and initiated ways to promote independent ownership of tobacco plantations following his advice. Today, more than 80 percent of all tobacco farms in the region are privately owned, although the government is the only buyer of tobacco.
"Life as a farmer in Cuba is difficult," he said, on many occasions. "But with the help of your family, you can live well enough. It's a good life. It's a happy life. I like nothing better than being here at my plantation with my family."
Photo by James Suckling Alejandro is flanked by his son Carlos and grandson Hiroshi, representing three generations of dedicated Cuban tobacco growers
He was with more than his family just about every day. Robaina's farm became a sort of tourist destination for the town of Pinar del Río. And although he nearly always welcomed unannounced visitors with a smile and a handshake, he secretly became slightly tired of the whole thing. One French travel guidebook to Cuba once wrote that the tobacco grower liked nothing more than receiving pencils or toothbrushes as gifts from would-be visitors.
"We have thousands of the damn things and we give them to the local school," he once said to me. The French publisher eventually cut the line out of the guidebook.
Comments
1 comment(s)
Joy Robaina Campbell — Portland, Ore., — November 28, 2010 1:21am ET
---
You must be logged in to post a comment.
Log In If You're Already Registered At Cigar Aficionado Online