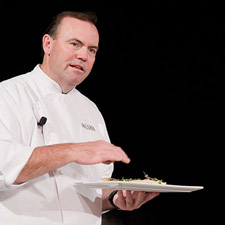 Celebrity Chef Charlie Palmer seen in this photo from the 2010 Big Smoke in Las Vegas.
Hail To The Chef
Whether he's in the kitchen or with a cigar, Charlie Palmer is always creating recipes and ideas for his restaurant empire.
With the official opening of Kitchen 82 just two nights away, Charlie Palmer is busy cooking for about 60 friends, who have been invited to the New York City restaurant to take part in a dress rehearsal. The master chef and upscale-dining entrepreneur is standing over the stove, supervising his staff as they put the finishing touches on plates of grilled hanger steak with red smashed potatoes; sweet-and-sour onions; pan-seared salmon with black trumpets, fennel and spinach; and roasted chicken with porcini mushroom risotto and arugula.
Before long, though, Palmer is walking around the airy and informal dining room, soliciting opinions about the food and service. Clad in a blue pin-striped shirt, black jeans and a white cooking apron, he bends over tables of happy guests -- designers, architects, journalists, lawyers -- who are sitting under giant white lamp shades that are suspended from the ceiling.
His manner is relaxed and easygoing, but his concern and his attention to detail are apparent. He needs to make sure everything is just right. And if it isn't, he needs to find out immediately what has to be done to make it perfect. It's an attitude and a way of life that are responsible for the 44-year-old Palmer's enormous success over the past 16 years, during which he has opened 11 restaurants and catering halls.
The 70-seat Kitchen 82, at Columbus Avenue and 82nd Street on Manhattan's Upper West Side, is an offspring of Kitchen 22, Palmer's highly prosperous eatery near Gramercy Park where a simple concept -- three courses, $25, no gimmicks, no reservations -- has proved just right for these difficult economic times. The wait for a table at either restaurant can be 45 minutes or longer.
Kitchen 82, which opened last spring, had a start-up cost of $300,000 and is the ninth Palmer incarnation; the first was Aureole, his temple to haute American cuisine that Palmer opened when he was only 28. Located in a brownstone town house on East 61st Street between Madison and Park avenues that was once home to Orson Welles, Aureole was conceived to be to American dining what the legendary Lutèce was to French cuisine. It achieved that goal almost immediately, winning the plaudits of critics and attracting hordes of the rich and famous.
Between Aureole and Kitchen 82 came Metrazur, Palmer's luxury restaurant under the starry ceiling of Grand Central Terminal, two catering venues in New York and Los Angeles called Astra and Astra West, Aureole Las Vegas at Mandalay Bay, Kitchen 22, the Charlie Palmer Steak at the Four Seasons Hotel in Las Vegas, and Dry Creek Kitchen, his restaurant at the Hotel Healdsburg in Sonoma County, California.
Last year, Palmer reached an agreement to take over the Stirling Club, a restaurant and catering facility at Turnberry Place in Las Vegas. He also opened a $6 million, 280-seat Charlie Palmer Steak restaurant across from the Capitol in Washington, D.C. The latter establishment features a 10,000-bottle wine cellar of exclusively American wines from all 50 states, and lounges tailored for lovers of cigars -- a group that includes Palmer as a loyal member.
Palmer couldn't have envisioned his culinary success growing up as a lower—middle class kid from a small town in the snow-filled reaches of upstate New York; a kid whose teenage passion was tackling foes on the gridiron, not concocting complex sauces over a hot stove.
Palmer looks like a linebacker -- and that's what he was during his high school days in Smyrna, New York, a town located about two miles from Colgate University. But it was an after-school job as a dishwasher at the Colgate Inn and a dare from his next-door neighbor, a home-economics teacher, that set Palmer on the road to kitchen fame.
"When I was growing up I had no intention of becoming a chef," Palmer says from his office at Aureole on the morning of the dress rehearsal. "For me, everything was about sports. And we didn't exactly live in the realm of chefs and high-end food."
You must be logged in to post a comment.
Log In If You're Already Registered At Cigar Aficionado Online