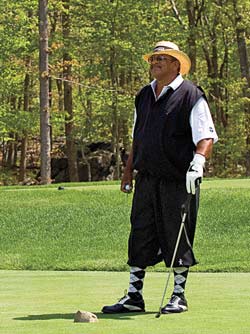 Jim Thorpe on the tee.
Golfer Jim Thorpe's Story
Jeff Williams
Posted: February 26, 2010
(continued from page 1)
He thinks he's going to jail because of who he is, as an example. "I think if my name wasn't Jim Thorpe, I wouldn't be going to court, wouldn't be going to jail," said Thorpe. "I'm not the biggest fish in the pond, but I'm a good-sized one."
Thorpe earned a reputation throughout his career as being good-hearted, kind and generous. "He would give you the shirt off his back," said Lee Trevino. "He really would."
Jeff Ramsey, a banker in the Orlando area, found out first hand what Thorpe would do to help a charity. Ramsey took over running the Boy Scout Classic in Orlando and it wasn't faring all that well. He knew Thorpe a little when he did some banking business with him, and approached him to help the Boy Scout tournament.
"He immediately said he would help," said Ramsey. "He went out and got Mercedes-Benz to help sponsor the tournament. He got people to supply the golf prizes. He worked at it. He gave clinics for the kids, told them to get an education and stay away from drugs. The proceeds more than doubled once Jim got involved. Jim Thorpe is concerned about his community. Jim Thorpe makes a difference."
Rochester Davis is a fireman in Buffalo, N.Y., where Thorpe lived for many years. Thorpe had a foundation there for children and Davis was a coordinator of events for it.
"Jim has the biggest heart in the world," said Davis. "He says no to nobody. He's really big on doing things for kids. It's just a travesty this man is being sent to jail over taxes for someone who has done what he's done for his community."
Thorpe has donated $250,000 and a 16-passenger van to his Crossings Community Church in Orlando. He has been the centerpiece of a golf program in Baltimore called Golf 4 Youth. You will find Jim Thorpe giving clinics for inner city youth whenever the prospect arises on the Champions Tour. "I do outings every year for that kind of stuff and never get paid for it," said Thorpe. "I think a lot of the people in the courtroom thought I was being sentenced for who I am and what I do.
"I just want people to know that I'm not a bad guy," said Thorpe. "I've gotten a lot, but I feel as if I've given as much as I've taken."
You must be logged in to post a comment.
Log In If You're Already Registered At Cigar Aficionado Online