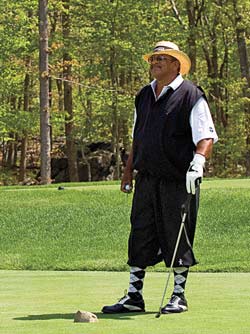 Jim Thorpe on the tee.
Golfer Jim Thorpe's Story
Jeff Williams
Posted: February 26, 2010
Jim Thorpe's career in professional golf has been a journey of success and failure, of angst and exultation. That he got to the PGA Tour at all, as the ninth of 12 children born to a North Carolina greenskeeper and his wife, was only just a tap-in short of a miracle.
His up-and-down career on the PGA Tour was followed by a new and highly successful life on the Champions Tour. For Thorpe, turning 50 in 1999 was like striking the mother lode. He won 13 times and earned more than $13 million. He got endorsement deals from Callaway Golf and Foxwoods casino. He had always lived an adventurous, full life, but his success on the Champions Tour allowed him to reach a whole new level of comfort.
But life has gotten a whole lot more difficult for Thorpe over the past two years.
Thorpe ran afoul of the Internal Revenue Service and after a two-year legal battle, he plead guilty on Jan. 22 to two misdemeanor counts of failure to file income tax reports from 2002 through 2004 and failing to pay all of his taxes in a timely manner. Judge Karla R. Spaulding sentenced him to a year in prison, 200 hours of community service when he gets out, and two years of supervised release. With penalties and interest on the unpaid taxes, he must pay slightly more than $2 million. He must report for prison by April 1.
Not only have the civil authorities come down on him hard, the PGA Tour has suspended his playing privileges until he has served his sentence. The Tour never comments on its discipline or its procedures. A letter sent to Thorpe by Michael Stevens, president of the Champions Tour, stated in part, "Commissioner Tim Finchem has determined that your conviction and sentencing to a year in prison is a matter of conduct unbecoming of a professional golfer."
The letter goes on to describe the suspension, but Stevens does state: "As I said earlier, this is a difficult position for us to take given all that you've done in your lengthy career to promote the positive virtues of our sport."
Thorpe is making a compromise offer to the IRS that, if accepted, may mitigate his sentence. But for the moment he is in professional limbo—he can't play golf to earn money to pay off the tax liability.
Thorpe takes the blame for his failure to file, but doesn't understand how the situation could end up with a prison sentence and why the Tour would take away his livelihood for misdemeanors. His friends are stumped, and frustrated, as well.
"It was a stupid mistake on my part, not paying attention to it, and I have to take the blame for it. Nobody else." said Thorpe. "I knew it was serious but I didn't think it was at this level at all. They are putting me in jail where I can't play to help pay this money."
Thorpe says he paid $965,000 of the taxes due from 2002-2004 during that taxation period. He says the charges stem from his failure to pay another $400,000 during that time, years in which he made a total of more than $5 million on Tour, plus endorsement earnings. He says that the penalties and interest on that money skyrocketed, and he has spent $700,000 on attorneys, which he now says he would have been better off just giving to the IRS.
You must be logged in to post a comment.
Log In If You're Already Registered At Cigar Aficionado Online