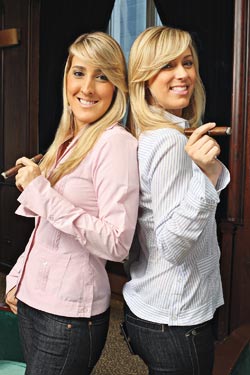 Patricia, left, and Raquel Quesada have worked in the family cigar business since 1997 and 2000, respectively.
Generation Next
We look at the youth movement in cigars, from the fifth generation of Quesadas, to the Perez-Carrillo children and the Levin young guns at Ashton.
(continued from page 3)
However, his being a part of a big company eventually chafed at Perez-Carrillo, and he yearned to do things on a smaller scale once again, this time with his family. His artistic creativity needed to be stirred.
"It's very exciting," says Ernesto Perez-Carrillo III. "It feels good to build something from scratch together. The whole family is really getting behind it…. We're all chipping in. We each have things to bring to the table." Ernesto III will focus on building the customer base, particularly in the New York area, where he lives. His sister will do all the legal work for the company, and is setting up the warehouse and offices in Miami, her home. "I'm going to be servicing all these orders Ernie's going to get," she says with a smile, giving her little brother some good-natured ribbing. She also intends to set up a smoking lounge in the company headquarters, just minutes from historic Calle Ocho.
The elder Perez-Carrillo is focusing on cigars and the tobacco needed to make them, and his children know they have a long way to go before they can take up his blending reigns. "He's the cigar man," says his son. The father has embarked on a tobacco-buying spree. By late June, he had already bought tobacco from six farms in Nicaragua alone, and he was planning on buying more. "In October and September, we're going to go out and buy a lot more tobacco," he says, puffing on a prototype smoke.
The children won the first battle with their father, convincing him to move at an accelerated pace to get the business started. Perez-Carrillo originally didn't plan on having a cigar out until 2010, but the new plan has them on pace for a November or December 2009 launch. "The plan was to start in March or April [2010], set up the factory slowly, make cigars for other people," Perez-Carrillo explains. "We're working on the factory now."
The brand will be their own, and will be called E.P. Carrillo. The first will be available in a limited-edition version (bearing a second band reading "Edición Inaugural 2009") and made with low-yield tobaccos. The core brand will come on the market later. "The plan is to do one limited edition per year," says Ernesto III.
The father, son and daughter trio is clearly excited about building a new brand from scratch together. "We've come closer together—I was always traveling," says Perez-Carrillo. Now, times are more like they were in the old days, when he worked in Little Havana and home was just a short drive away. "Our first house was very close to the factory," says Lissette. "My dad picked me up from school and we would go back to the factory. Anything we needed, he was there."
The Levins — Ashton's Brother, Sister Team
Just as he learned the cigar business from his own father, Robert Levin has brought his daughter Meera and his son Sathya into the fold at his ever-growing company, which sells Ashton and other cigars worldwide.
Six years ago, Ashton Distributors owner Robert Levin was asked during a Cigar Aficionado Q&A what his company would look like in 20 years. "I have no idea," he said at the time. "My son, Sathya, shows some signs of interest; he's a senior in college. My daughter, Meera, is a sophomore, so it's too early to tell."
Things have changed. Today, Meera, 25, is the director of marketing and international accounts at Ashton, and Sathya, 28, is vice president, deeply involved in most aspects of the Philadelphia-based business, which owns one of the best-known cigar brands in America.
You must be logged in to post a comment.
Log In If You're Already Registered At Cigar Aficionado Online