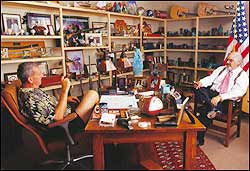 Photo by Gary John Norman
General Tommy Franks
Marvin R. Shanken conducts an exclusive interview with America's top general in the war on terrorism.
(continued from page 1)
CA: Where were you when this occurred?
Gen. Franks: Kathy [Mrs. Franks] was with me. And we were headed to Pakistan for a visit with President [Pervez] Musharraf. We had stopped in Souda Bay, Crete, to get gas for the jet. Kathy and I had walked into a small market in this little town, because that's where one buys the best olives in the world. We went back to this little hotel. I was about to take a nap. There was a rap on the door. And I opened the door and one of my assistants said, "Turn on the television." I turned on the TV just in time to see the second tower strike. My wife would tell you that the first words out of my mouth were "Osama bin Laden." That's the first thing that I said. I got on the telephone, called back, talked to people in my headquarters, raced off to the jet, got back here on the 12th of September, talked to [Secretary of Defense] Don Rumsfeld, and we started planning for operations in Afghanistan.
CA: The very next day, you and Rumsfeld had your first conversation?
Gen. Franks: I may have talked to him later on the 11th. I can't recall; but, by the 12th, when I hit the ground back here, my staff and the staff in the Pentagon and the secretary's staff were already working on a plan.
CA: Can you recall the very first words that he said to you or you said to him?
Gen. Franks: I don't recall the exact words, Marvin, but it would be a very businesslike conversation that would have been along the lines of form of concept for operations in Afghanistan and "bring it to me as quickly as you can." It would have been something very businesslike. There would not have been emotion in that conversation.
You'll recall that the secretary's quite a hero himself personally. When the airplane struck the Pentagon, he had gone from his office in the smoke and had assisted in removing people from the Pentagon. And so he was, as I was, I'm sure, tired.
CA: But it was businesslike, and not something like, can you believe how horrible this was?
Gen. Franks: It was business. All business.
CA: Did he give you a time frame for action?
Gen. Franks: I don't recall it, but I doubt it, because that would not be the secretary's way. He would have said, "Get it together and talk to me in the next couple of days and bring me something quickly."
CA: Was there a sense of urgency?
Gen. Franks: There was urgency, of course.
CA: When did you first speak to the president?
Gen. Franks: I think my first discussion with the president would have been on seven or eight days after 9/11. And that would be when the secretary and I took him the concept for a plan to remove the Taliban and the terrorist networks in Afghanistan. It was probably the 20th or the 21st of September.
CA: Is the plan that you proposed then essentially the plan that you ended up executing?
Gen. Franks: What we would not have had by the 20th or the 21st, when I talked to the president the first time, would have been the target sets. The specifics. There is an order to war. And the order has to do not only with a sense of priority; it has to do with which things are struck militarily at what point in time. The concept would have been what, in fact, we all watched unfold. The specifics, the target sets and the relationship between humanitarian assistance and kinetic targeting would not have been in place. And I think that I saw the president again, perhaps nine or 10 days later, with a complete package. And I think he approved for execution on the second of October, and we discussed when operations should begin. We agreed when all of the elements would be in place to begin operations.
CA: What time frame was that? You had projected how many weeks or months would be required?
Gen. Franks: I don't think we knew at that point in time. We knew what we were going to do. I think one of the principles of war is that a good commander will always remember that the enemy takes a hand. And we were not sure at that point in time whether the Taliban and the Al Qaeda leadership in Afghanistan would die hard; whether they would try to escape to the mountains; we didn't know. We knew the effect of precision munitions. We knew the effect of our special operations forces. We knew that we wanted to get our special forces people linked up and working with opposition groups. A lot of people have said, the Northern Alliance. In fact, the Northern Alliance was the largest of these groups, but there were opposition leaders all over the country of Afghanistan. I met some of them in clandestine meetings in Tajikistan. I met some of them inside Afghanistan. I met some of them in Pakistan.
< 1 2 3 4 5 6 7 8 9 10 11 12 13 >
You must be logged in to post a comment.
Log In If You're Already Registered At Cigar Aficionado Online