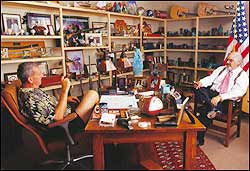 Photo by Gary John Norman
General Tommy Franks
Marvin R. Shanken conducts an exclusive interview with America's top general in the war on terrorism.
Marvin R. Shanken interviewed General Franks in his Tampa office, where he has memorabilia from his 37 years of military service.
The date, 9/11, was coincidental. It was the only day in September when the schedule of Gen. Tommy Franks meshed with that of Cigar Aficionado editor and publisher Marvin R. Shanken. But the somber anniversary served as the perfect backdrop for the first post-retirement interview granted by General Franks. It was a day marked by his own observations of small groups of Americans waving flags along the byways of Tampa, Florida, his hometown, and the ever-present yellow ribbons tied to telephone poles and palm trees on the city's avenues. Franks served his country for 37 years, earning three Purple Hearts for wounds received and, over his career, three Bronze Stars for valor.
He climbed up the ranks of the U.S. Army, enlisting after a short stay at the University of Texas in the 1960s and finally reaching one of the highest posts in the military, the head of Central Command. He is a soldier's general, a man who chose throughout his career to spend time in the field, mastering his chosen career firsthand, not in a classroom or some think tank. He earned high accolades as a commander in the first Persian Gulf war in 1991, and worked hard throughout the 1990s to restructure and modernize the U.S. military. He was in charge of CentCom in 2001 when Osama bin Laden's terrorists crashed planes into the World Trade Center and the Pentagon, and he led the planning and execution of the attacks on Afghanistan in October 2001 and Iraq in March 2003. He retired on August 1, 2003.
His comments and answers reflect the beliefs of a man who truly loves his country, and one who fought for the principles established by the founding fathers more than 200 years ago. He addresses directly questions about the search for bin Laden and Saddam Hussein. In the interview with Shanken, he also touches on his opinion about how history will judge George W. Bush, and the prospects for a world without war and terrorism.
Cigar Aficionado: What is today's date?
Gen. Tommy Franks: It's the second anniversary of 9/11.
CA: When you got up this morning, what was your mood?
Gen. Franks: Somber. Serious. I don't think for the past two years there have been too many days when most Americans didn't at some point during the day either experience the result of 9/11/01, or pause and think a little bit about 9/11/01; where they were, what they were doing. And I know that's been the case for me. It's been the case for my family. It has been the cause of a lot of friendships and associations. So, this morning I got up and it was somber. As I drove to work this morning down Bayshore Boulevard out here in the beautiful town of Tampa, all the palm trees and all the poles had yellow ribbons tied on them.
CA: That's beautiful.
Gen. Franks: It is a beautiful thing. And I'll tell you something else that's beautiful about it. Shortly after 9/11, there were three women who, on Friday afternoons, went down on Bayshore Boulevard and just stood on the corner and waved American flags. Three women. They started calling themselves the Bayshore Patriots. And, three women standing on that corner two years ago is something that you ought to experience every Friday. Up until the time we speak right now, they've never missed one. Rain or shine. And the number is considerably larger today. People stand on that corner and wave at cars passing every Friday afternoon. Those are the thoughts that ran through my mind when I got up this morning.
CA: How does September 11th compare in American history to such tragic events as Pearl Harbor or the assassination of John F. Kennedy?
Gen. Franks: I think we could probably use a lot of different words to describe that. One I've already used is "somber." If you look at a comparison of one day, two years ago, our country lost several thousand citizens: men, women, children, in the wink of an eye compared to the sweep of history. The greatest loss that we've ever experienced. Warfare brought to our shores. And you think about Pearl Harbor. Certainly it's a significant event. I was born in 1945, and so I didn't personally experience what it must have been like in December 1941 with Pearl Harbor. I did experience the loss of JFK. I was a student at the University of Texas on the Austin campus. And it's one of those days that we remember.
I've described 9/11, to the media and to all my friends, as the beginning of a crease in American history. And that's exactly how I think about it. I am an old-fashioned guy. I'm a corny guy. I actually believe in the Constitution of the country. I actually hold all of the values that I think Americans hold, even though we may not talk about them a lot. Well, I'm a guy who talks about them. That is my character. That's who I am. And I believe that we have had a couple of hundred years of this grand experiment called democracy. We've had our highs and we've had our lows. And 9/11 brought all of our history right in front of us. It brought in front of us things like liberty; things like freedom; the ability for you, for your family, to be able to go to a mall anywhere in this country, sit in one of the movie theaters that exist in that mall; get on a jet, fly some place around the world. Do whatever you want. The events of 9/11 impacted the way we live and I think it's healthy for us to think about that. I think it's healthy for us to remember that. And I believe that we probably have had no occasion in American history which has had such an impact on citizens at home in this country.
CA: Every single American.
Gen. Franks: Every single American. Every single American.
1 2 3 4 5 6 7 8 9 10 11 12 13 >
You must be logged in to post a comment.
Log In If You're Already Registered At Cigar Aficionado Online