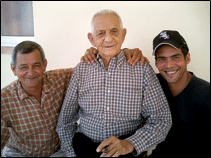 Alejandro Robaina with his grandson, Hiroshi, right, and his son Carlos.
Cuba's Cigar Legend, Alejandro Robaina
The dean of Cuban tobacco men and his grandson, Hiroshi, discuss the state of cigars in their homeland in a wide-ranging interview.
Alejandro Robaina, 87, is a legend in Cuba, and the dean of its cigar industry. He has dedicated his life to growing the best wrapper tobacco in Cuba, if not the world. His family has been growing tobacco at the same plantation in Pinar del Río since 1845. In the last three years, his grandson, Hiroshi Robaina, 30, has taken over the day-to-day management of the farm. Hiroshi's father, Carlos, 50, also is involved in the farm's operations.
I met with Alejandro and Hiroshi in early March while the 2006 tobacco harvest was coming to a close. A representative from the Cuban tobacco institute was visiting the Robainas. The official explained that the institute had developed a new wrapper tobacco that would produce more than 20 leaves per plant. Alejandro was not impressed.
We sat in his guesthouse later and spoke about his observations and his grandson's thoughts about the Cuban tobacco industry. Later, we drank some beers and watched the World Baseball Classic together. The interview was conducted in Spanish.
Cigar Aficionado: How many hectares of tobacco have you planted this year? Alejandro Robaina: 16 hectares [almost 40 acres].
CA: Do you always plant the same amount? Has it changed much since the mid-1800s when the farm started?
Robaina: Yes, always the same amount. Well, now that you mention it, it could be that after the revolution I increased the plantings a little bit.
CA: What yield for wrappers do you usually achieve?
Robaina: In the curing barns, I have had years when it's reached 82, 72, 70 and 68 percent. There was a very bad year a while ago when I had a 36 percent yield. That was one of the worst years I have had.
CA: Was it due to excessive humidity in the barns?
Robaina: Yes, that was the problem. It was a total disaster, but compared to the other best grower in the region, who had a 16 percent yield, I did quite well! The rest of the growers in the region only achieved 3 or 4 percent yield and some only achieved 1 percent!
You must be logged in to post a comment.
Log In If You're Already Registered At Cigar Aficionado Online