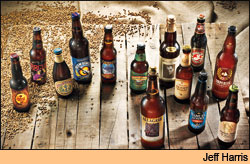 The craft brewing revolution presents the American beer drinker with a kaleidoscope of styles that are big, bold, tasty and, most of all, different.
Choice Brews
How craft brewing started a revolution and opened up the American palate to a wide selection of ways to enjoy a favorite national beverage
(continued from page 2)
For these smaller operators, the problem was not only finding capital to expand, but the equipment and raw product to do it with. The chains of supply for American brewing were set up for Big Beer, which used huge fermenting tanks and ordered grains by the freight-train load. Suppliers weren't much interested in catering to the small guy. Reich turned to Europe to buy the equipment for his brewery, which then needed to be shipped to America. Koch recalls that the variety of hops available was quite limited.
One of the most successful of the breed, Koch, avoided the pitfalls of setting up for production almost completely . . . and took a lot of heat for it. A Harvard graduate, who had a marketing background, he became a home brewer in his kitchen. Using a recipe rescued from his family's shuttered brewery in Cincinnati, he created the Samuel Adams brand in 1985, but contracted out production to the Pittsburgh Brewery, maker of Iron City Beer. Without the headaches of building a brewery or tending to production, Koch could put his energies into building his brand. He became something of a master of the hand sell, personally visiting bars and liquor stores to explain his newfangled pour, which quickly captured the public's imagination. "You couldn't get a distributor, so I went from bar to bar with cold beer in my briefcase. The whole idea of quality American beer was an oxymoron [that had to be explained to proprietors]."
Sierra Nevada brewery in Chico, California.
From some of his brethren in the cause of Small Beer came outrage, however. How could you make craft brew, if you were not the brewer? How could a mass producer make small-batch beer? How could you call yourself Boston Beer and name your product Sam Adams after a local revolutionary hero when the beer was made in Pennsylvania? Koch countered that if Julia Child could take her recipes and ingredients to a foreign kitchen and still create a dish she could call her own, why couldn't he do the brewing equivalent?
Koch's subsequent success (he now makes 1.9 million barrels a year) seems proof of his legitimacy among the craft-brew true believers. They weren't as forgiving, however, when Big Brewing made its first forays into the style. Considered heresy was Miller's apparent attempt in 1994 to fob off as premium craft its Red Dog with a label that didn't mention that Plank Road Brewery was really part of its own large Milwaukee plant.
That brewing capacity may be as important to the beer revolution as taste and style is reflected by definitions posted by Brewers Association on its Web site, one of which states that craft brewers produce fewer than two million barrels a year. Another states that microbrewery capacity is set at 15,000 barrels. To be sure, the definitions also stipulate a "traditional" component in which adjuncts can be used only to enhance, not lighten, flavor, but the implication seems to be that Big Brewing is incapable of playing with the little guys. Except that judging by recent laudable efforts from Anheuser-Busch with Budweiser American Ale and Michelob Shock Top, Belgian White, Dunkel Weisse and Honey Wheat, it can. Matthew Reich says, "A-B is finally getting its act together."
George Reisch, a Michelob brewmaster who had practiced home brewing before it was legal, says, "I make no apologies based on size. I brew to style and taste. Every brewer, no matter what size, will have small fermenters."
The irony of the nothing-good-can-come-from-large-brewing sentiment is that Joe Owades, one of the titans of the early days of Small Beer, came out of Big Beer. A consultant to many of the early microbrewers and the creator of some of their recipes (including New Amsterdam), he had spent his career working for Anheuser-Busch and Rheingold. While he was at the latter, Owades even created the first low-calorie beer, Gablinger's. (While it was originally a flop, his concept eventually got into the hands of Miller, which made it work.) But the fermentation chemist's true taste and interest lay in the stronger beers he remembered from his youth, so upon retirement he brought his talents to like-minded brewers, consulting for such brands as New Amsterdam and Saranac. Still, a resistance to the large brewers playing in the small pond is natural. "The big birds are trying to steal our mojo," says Koch. "It's a good marketing tactic, but the consumer is often disappointed."
Furthermore, mass producers are not typically geared up to follow the extreme market niches that craft beers can serve. That megabrewers' need to sell in large volume creates a culture that stifles experimentation that craft brewers enjoy, says Tod. "We don't start with the idea of what's going to sell or what's not going to sell," he says. "The last thing we want is a bunch of beers that taste the same."
At the same time, the traditional avenues of distribution aren't always conducive to Small Brewing. New Beer Distributors' Ruiz says his business has been partially built out of that very fact: "Our customers know that if anyone is going to carry the beers that no one else will take the risk to market, it will be us."
You must be logged in to post a comment.
Log In If You're Already Registered At Cigar Aficionado Online