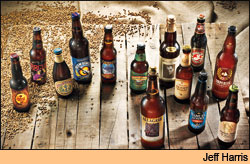 The craft brewing revolution presents the American beer drinker with a kaleidoscope of styles that are big, bold, tasty and, most of all, different.
Choice Brews
How craft brewing started a revolution and opened up the American palate to a wide selection of ways to enjoy a favorite national beverage
(continued from page 1)
Craft brew pioneer Ken Grossman began as a home brewer and no makes Sierra Nevada.
While local brewers competed with the big boys for some time, they took successive blows in the twentieth century. First came Prohibition during which many were wiped out. Then came television advertising, a boon to those who could afford it, but a decided disadvantage to those who couldn't get their message out. Bigger brewers began to buy out smaller ones and by 1980 the number of breweries in America had dropped from 1,568 in 1910 to 101, even while annual per capita consumption rose by some three gallons. Furthermore, the top five brewers were making three-quarters of the beer, up from 19 percent in 1947. Not only were the choices in robust beers disappearing, but new products began to move in even lighter directions. When Miller bought Meister Brau it acquired a formula for low-calorie beer, which it introduced in 1975 as Lite Beer from Miller. "Tastes great, less filling" was the mantra, and it wasn't long before the rest of Big Brewing followed suit.
Even as the trend toward lighter beer was accelerating, the seeds for the craft beer revolution had already been sewn a decade earlier. The advance guard of the movement came in 1965, when Fritz Maytag, a descendant of the founder of the appliance company of the same name, bought 51 percent of the failing Anchor Brewery in San Francisco. Something of a chemist, he set about reviving a style of beer made with lager yeast, but using, originally from necessity, the higher fermentation temperatures of ale. It was called steam beer, a name Maytag trademarked in 1981.
Maytag was soon being joined by other small beer innovators. In 1976, Jack McAuliffe, who had been enthused by home brewing in Scotland, created the first post-Prohibition microbrewery, New Albion Brewery, in Sonoma, California (now defunct). Then, in 1977, writer Michael Jackson published The World Guide to Beer. In it he categorized the many styles made around the world, captivating the fledging American beer-geek population, which was looking for different taste experiences. Jackson would go on to be a champion of craft brewing in his writing until his death in 2007.
The next watershed event of craft brewing came in 1978, when President Jimmy Carter signed a bill that made home brewing legal. Apparently, enthusiasts had been practicing underground, because the American Homebrewers Association (now Brewers Association) sprang up almost immediately thereafter.
"Honestly, no one had enforced [home brewing laws] anyway," says Koch, the Boston Beer founder. "But [making it legal] brought people into brewing. You didn't need an enormous amount of equipment, and you realized it was no more difficult than baking, if you could get the supplies."
As amateur proponents like Koch became bolder, they morphed into dealers of their wares, originally called microbrewers. Grossman of Sierra Nevada started as a home brewer, as did Matthew Reich, the creator of New Amsterdam, the first craft beer on the East Coast.
Grossman, who is located in Chico, California, remembers his early forays into brewing, visiting the home-brew supply stores that were popping up. "We made pilgrimages to New Albion and to see Fritz Maytag," he says, emphasizing that his efforts with his partner of the time, Paul Camusi, were going into scraping together money to set up an operation. "We didn't know anything about distribution or marketing."
More microbrewers followed and what had emerged as an odd ambition for a small handful in the early 1980s had become a full-fledged industry by the '90s, with small makers creating brew pubs to market their wares and beer-of-the-month clubs springing up like hops. Suddenly, real choice was on tap and Americans were willing to make it. Of course, some of the charm of craft brewing was not just that the beer tasted different, but that the operations were small, and the makers were quick to construct a David-and-Goliath scenario with the mass-produced beers on the side of the Philistines. How could the behemoths possibly make a great beer when in a matter of hours they produced the volume that the small craftsman labored a year to brew?
As they grew from home-brewing operations, craft brewers needed larger breweries, bottling lines and methods of distribution. These concerns and the necessity to create a consistent product caused growing pains that resulted in the demise of many small brewers. Even such storied brands as New Amsterdam, established in 1982, were not immune. Reich, who brought brewing back to New York's borough of Manhattan after a six-year absence, blames his brand's demise on that very dream: "I got caught up in the romance of building a brewery in Manhattan," an expense that would drain the company of cash.
You must be logged in to post a comment.
Log In If You're Already Registered At Cigar Aficionado Online