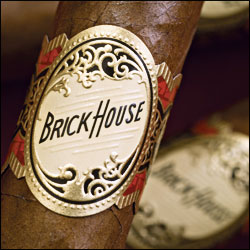 The all Nicaraguan Brick House brand by J.C. Newman Cigar Co. was first seen at this year's International Premium Cigar & Pipe Retailers trade show.
Best Bargain Cigars of 2009
Americans are natural bargain hunters. It's a national instinct that has developed over decades of comparison shopping, chasing down sales and other adapted behavior to best survive in the free market. The cigar smoker wants as much value for his dollar as anyone else, but is also cognizant of quality, perhaps more so than the average consumer, so we have amassed our annual list of high-quality, bargain cigars. This year, a bargain is defined as any cigar that costs no more than $6 and scored no less than 88 points in our ratings. The previous "bargain" cap was $5, but given inflation, rising taxes and the general increased costs of operation, we decided to raise the margin by a dollar. As a result, the list grew exponentially. These entries were taken from both Cigar Aficionado and the Cigar Insider.
Worthy of considerable attention are the Oliva Serie V Especial Belicoso, Ambos Mundos No. 2 Robusto and the Nestor Miranda Special Selection Coffee Break. Each is a bargain smoke that also appears on the Top 25. (Note that in this bargain list they appear with their original Cigar Aficionado or Cigar Insider score, which may differ from the Top 25 rating.) Not good enough? How about a Padrón robusto for $4 or a handmade Cuban Hoyo de Monterrey for even less?
If after reading this long list of inexpensive premium cigars you still cannot find anything to suit your budget, then perhaps you have taken up the wrong hobby.
91 points
Brick House Churchill, Nicaragua
7 1/4" by 50, $5.75
Hoyo de Tradición Corona, Honduras
5 3/4" by 45, $5.49
Oliva Serie O Torpedo, Nicaragua 6" by 52, .60
Oliva Serie O Torpedo, Nicaragua
6" by 52, $5.60
90 points
Ambos Mundos No. 1 Toro, Nicaragua
6" by 50, $5.25
You must be logged in to post a comment.
Log In If You're Already Registered At Cigar Aficionado Online