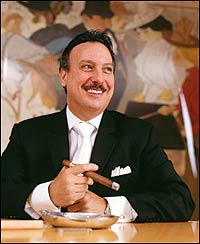 An Interview with Carlos Fuente Jr.
A decade after introducing the Fuente Fuente OpusX, Carlos Fuente Jr. discusses its significance and what is to come.
(continued from page 3)
Q: Which of your other cigars uses the Chateau de la Fuente tobacco?
A: A lot of different cigars, David. Cigars in the Fuente brand, and, of course, we own other brands, and also cigars with the Newman family. It could be half a leaf. How can you not use it, when the taste is so unique? In Connecticut, or other great growing regions in the world, if there's a bad crop, you always have something else to fall back on. If Chateau de la Fuente fails, there's nothing else to fall on. I'm not saying it's better, but it's different.
Q: Is that why you're careful with your inventories?
A: One thing I learned from my father: you run the cigar business with your heart, not with pencil and paper. And our greatest passion is tobacco. We have inventory that's scary. We've had business tragedies. We had a fire in 1995 where we lost about 1,800 bales of old, aged tobacco. And that same morning, when the buildings were ablaze, a lot of people in the industry were there watching the fire. That next day, one of my friends and colleagues was approaching the Newman family offering to make their cigars, because the industry thought we were out of business. But no one in the industry knew the dozens of warehouses we had just like that full of tobacco. We're a family business, and we're very private. And people didn't know how much tobacco we had.
Q: Just to give perspective, how many cigars can you make with 1,800 bales?
A: I have no idea.
Q: A lot?
A: A shitload. (Laughs) But my family is not about numbers, it's not about being big. We're not really businesspeople. We do things from the heart. When it's great tobacco, it only gets better with time. We have enough tobacco to supply quite a few companies in the cigar industry. We do it because we have a love for it. You never see my father with a tie. You'll never see a memo. Nothing is written down. Not even our blends are written down.
Q: They're not written down?
A: They're not written down.
Q: All your blends? That's amazing.
A: That's how my father taught me. We're from the old school. Remember, I was born in a community where right next to my grandfather's house was another cigar factory. At night, when they would have conversations, they would go, "Hush. They're listening."
Q: But with so many warehouses, tobacco everywhere...
A: We have our inventories, everything is in bond, and numbered. It's itemized. When we look at tobacco now, we would designate it thinking it's going to be for X. You're constantly inspecting it, the tobacco evolves, you see whether it's ready to use. That's why it's alive. If you were to run things by the book, it would not be consistent. You feel the tobacco, the oils, and you have an idea of the heat that's going to be required to bring out all the flavors and the aromas of that tobacco. It's like cooking. If you have [two] Chilean sea bass, and one is three inches thick and the other is one and a half, you don't cook them the same.
There's three parts to making a great cigar. There's the science and the know-how, the experience. There's the art, which is the judgment call, that feel that you know exactly what to do. But there's something else: the inspiration. And I consider that very spiritual.
Q: Say you were going to make a new cigar today. Would you have an idea in your head?
A: I can't go out and make a cigar. It's an inspiration. It's a feeling. It's timing. That's why sometimes you see many years go by without something new, and then it's just bam-bam-bam-bam, you have six, seven different sizes, a different blend. Like right now, I really feel that motivation. I want to create this magical farm for the best fillers in the world.
We just want to make the best cigar possible. We made a decision years ago, my father and I. At one time during the '90s we worked Saturdays, we were working sometimes into the night, the demand was so big. And we just said to ourselves, "No. We're going to make the best cigars we can." And we're making a lot less cigars today than we did in the '90s.
You must be logged in to post a comment.
Log In If You're Already Registered At Cigar Aficionado Online