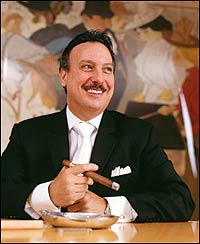 An Interview with Carlos Fuente Jr.
A decade after introducing the Fuente Fuente OpusX, Carlos Fuente Jr. discusses its significance and what is to come.
(continued from page 2)
Q: Did your grandfather like strong cigars, too?
A: Of course. I'm not saying strong. I don't believe in strong cigars. I really believe in flavor, balance, richness. I think the Fuente Fuente OpusX is very powerful, but it's like a silent power. I believe it's very complex, very rich, but sometimes you don't realize it until you stand up.
Q: You mentioned blending. Can you talk about how different sizes in a brand have different flavors?
A: I don't blend a gran panetela the same way I would blend a double corona. They would be the same tobaccos but in different proportions. With different dimensions and different lengths, you get different cigars. Cigar making is probably the most difficult craft in the world. In the wine industry, you have a crop of grapes, you ferment them, and you mix liquids together and it becomes uniform. With cigars, you're blending solids. That's where it takes not only know-how, but also art. You're blending sometimes as many as five, six, seven different flavors together. I like to refer to them as herbs and spices. The Fuente line is extensive, and that's because it evolved. In Nicaragua, we made a certain type of cigar. Before the Cuban embargo, we made a certain type of cigar. When we moved to the Dominican Republic, a lot of the people wanted them milder. And little by little we toned them down. Around 1982, we started adjusting it back up, and we introduced the Chateau Fuente line.
Q: That's with Connecticut wrapper?
A: Yes, but it was a blend that was very rich and more full-flavored. We kept on bringing more things with more taste, and different shapes. For example, in 1983 we introduced Arturo Fuente Hemingway. It was a shape [perfecto] that was lost on the market. It was really a lost art. But I really have a passion, and my heart is in the past. I wanted to recapture that lost art. My father went back to our warehouse in Ybor City and gathered as many molds as he could find of the perfecto shape, which my grandfather called Arturo Fuente Fancy Tales, and I believe it wasn't made since the '60s. No one knew how to make those shaped cigars. I asked my father, and he said when he was young, he used to make them. My grandfather had taught him. And my father practiced and worked on it, and taught our master roller to make it. It wasn't until about a year later that the cigar was introduced, and it became an instant success. It was the only perfecto shape on the market that I was aware of.
Q: When did you come out with the Hemingway Short Story?
A: It was becoming difficult to smoke in certain areas. We were talking about making a shape that was small but very flavorful. There was only one or two cigarmakers making each of these cigar sizes at that time. It was an instant success. For many years there wasn't a shape like that on the market. The Short Story became perhaps the most imitated shape. My father always taught me you either lead or follow.
Q: What about Don Carlos?
A: The Don Carlos series was launched in 1986. It's an honor and tribute to my father, but I also think of someone very dear to me, a brother, Richard Meerapfel [the recently deceased grower of Cameroon leaf]. We developed Don Carlos for the European market. Today, it's a classic. It's what many people believe is our finest cigar.
I just can't create something new because someone asked me to. A lot of times when we develop new sizes and new blends, most of the times it's during my most difficult moments. Sometimes it happens in the middle of the night. I can't turn it on, I can't turn it off. Don Carlos was developed this way. My father was involved, I was involved, and also Richard Meerapfel with his wrappers. It pays tribute to someone who's probably the most humble man you could meet.
Q: Can you tell me about your grandfather Arturo?
A: At a very young age, I used to sit on my grandfather's lap, in this old wooden house in Ybor City. Every evening, my grandfather would take me to his room with a cigar in his mouth, and put it on a little night table right by his bed. And he would tell me stories about Cuba, about the folklore, about El Indio, the goddess that protects the tobacco fields. How there was so much pride when he was a young man in Cuba. The tobacco farmers lived a life to make tobacco taste better. It was in their culture, in their veins. My grandfather told me all these stories, and I was like a computer without information, a blank slate. And all these stories are my inspiration.
Q: What kind of man was he?
A: I never saw my grandfather without a cigar. My grandfather, and I say this in a very affectionate way, was a guajido. A guajido is a Cubano from the land, who is affectionate, respects life, and is also very proud. A man with honor. A man above all whose word is his bond. My grandfather was probably the most tender human being I ever met. He was a simple man, but a man everybody loved. Right now, I smell his Old Spice aftershave. I see my grandfather sitting in a wooden chair, caressing tobacco. At a very young age he told me tobacco is like the most beautiful woman. As you caress the tobacco, it becomes more beautiful. It speaks to you. He was a simple, humble man, but a man who left such a deep impact on my life. When it comes to tobacco and cigars, everything I do, I do it with my grandfather in mind, and hope that he is proud.
Q: Let's talk about your tobacco farm, which has grown so much over the years. How many acres are you growing now?
A: The total property is approximately 300 acres. The most we grow in one year is 190 acres. The farm when we started was around 38 acres. We're in negotiations now to buy another property to develop a filler farm at Chateau de la Fuente.
Q: And will that go into your other cigars, besides Fuente Fuente OpusX?
A: Of course. Most of the tobacco that we grow on Chateau de la Fuente does not go on Fuente Fuente OpusX. On Fuente Fuente OpusX we use tobacco from the farm and tobacco from around Santiago.
You must be logged in to post a comment.
Log In If You're Already Registered At Cigar Aficionado Online