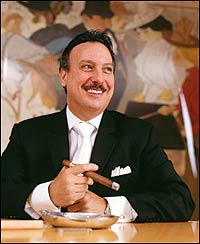 An Interview with Carlos Fuente Jr.
A decade after introducing the Fuente Fuente OpusX, Carlos Fuente Jr. discusses its significance and what is to come.
(continued from page 1)
Q: People knew about it?
A: There's no hiding. At the time, we were already making more cigars than anyone else here by hand, and our brands were oversold. They said, "Your son is taking a big risk. You have no need for this." My father, the more people told him no, the more he said we have to do it. My father is a person who the word "impossible" doesn't exist for. He's the person I love most in life, and my dream is to follow in his footsteps, but it's impossible to fill his shoes.
Q: When you say negativity, where was that coming from?
A: It was the other manufacturers. For some reason, they felt that great wrappers cannot be grown [in the Dominican Republic]. The article came out, "Seeds of Hope," and it was positive, although there was still a lot of doubt. Our colleagues were also interviewed. No one, no one at all, said that they were hoping it was successful. I was heartbroken by that. That's where the idea came [for our ad] Chateau de la Fuente, Birthplace of a Dream. We didn't have a product yet, but we showed my father and myself in a tobacco field. That was not [directed] to the consumer. It was not to promote. That was a response to my colleagues.
It wasn't until 1995, when we had the bands, that my father said, "We're going to wait until November the 18th [to ship]. That's your grandfather's birthday, and we'll need his help." On November 18th, I was here in New York City for the Big Smoke. I started getting calls from the finest retailers in New York City saying there were people in line around the block. It was amazing, the demand for this product.
Q: I was going to ask you when you knew the cigar was a hit. I guess you knew the first day.
A: I knew I loved it. This was my baby. But I didn't know who else was going to like it. At that time, cigars were basically very mild, and all of a sudden, after the Fuente Fuente OpusX had this tremendous success, it started a whole new trend in the cigar industry, a whole new trend for rich, flavorful cigars. I feel blessed.
Q: What did it do for your core brand, Arturo Fuente?
A: I believe it enhanced our family of cigars. I believe, and most people believe, our greatest cigars are the Reserva Don Carlos, the Arturo Fuente Hemingway series, Chateau Fuente series and, of course, our bread and butter, the Arturo Fuente 8-5-8.
Q: Is the 8-5-8 your best seller?
A: I don't really know what's our best seller.
Q: You don't know which of your cigars you sell the most?
A: I really don't know. I consider myself a chef, my father a chef. We blend leaves. It's very much like cooking, to get the complexity, the dimension, the personality, the signature of our family name inside every puff. We're chefs, and we have to offer different tastes for different people.
Q: Have you always liked strong and flavorful cigars?
A: Absolutely. When I was 18, 19 years old, I used to visit the Dominican Republic. My father wanted me to learn tobacco from the ground up. I was not able to go to Cuba because of the economic embargo, so my father sent me to the Dominican Republic to work with José Mendez & Co., one of the great Cuban families and one of the pioneers in the Dominican Republic with Cuban-seed tobacco. Everybody was shocked, because I would get the [powerful leaves called] coronas and the medio tiempos and make cigars out of that.
Q: Those are the highest leaves?
A: Yes, the highest, thickest leaves, and everyone was amazed. At that time, everyone wanted mild, but I wanted more intense. Maybe it's part of my heritage, but it's just what I love. Like the coffee we drink, like the food we eat.
Q: Do you like food with lots of flavor and spice?
A: Absolutely. At my age I can't eat the spices like I used to, but I was known for just chewing away at jalapeño peppers.
You must be logged in to post a comment.
Log In If You're Already Registered At Cigar Aficionado Online