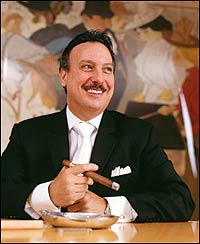 An Interview with Carlos Fuente Jr.
A decade after introducing the Fuente Fuente OpusX, Carlos Fuente Jr. discusses its significance and what is to come.
Carlos Fuente Jr. is one of the most recognized faces in the world of cigars. The 51-year-old president of Tabacalera A. Fuente y Cia. is a passionate cigarmaker who finds inspiration in breaking new ground in the cigar business. He and his father, Carlos Sr., revived the perfecto shape with their immensely popular Hemingway series of cigars and drove the demand for full-flavored smokes with their creation of the Fuente Fuente OpusX, the first successful cigar to be made with a Cuban-seed wrapper grown under shade in the Dominican Republic. n As the 10th anniversary of the Fuente Fuente OpusX launch loomed, Fuente Jr. sat down with senior editor David Savona for a wide-ranging discussion on his past, present and future in the cigar business.
Savona: When did you smoke your first cigar?
Fuente: I was between the age of six and seven years old. I went to my dad's dresser, and he had a couple of Arturo Fuente Brevas. I remember sneaking them outside. It was daytime. I opened up the matches and took a couple of puffs.
Q: And taking this wasn't something you had permission to do, right?
A: No, no. When my father got home, he started asking, Where's the cigars? And I was very quiet. I never told him, but he knew. As soon as he got home, I put my head down, and had a big smirk on my face.
Q: Where was this?
A: It was on Dewey Street, in West Tampa. My family moved from Ybor City to West Tampa when I was three years old. I was born in a hospital, and the next day I went to my grandfather's [Arturo Fuente's] home. My mom was 18 and my father was 19, so my parents lived with my grandfather, and the cigar factory was part of the house. The doctor who delivered me was a good friend, and he was paid with a box of cigars. Everybody seemed to be involved somehow directly or indirectly with cigars. It was a different world, but it was a beautiful world. I remember the afternoons and the early evenings, being on the porch with my grandparents. My father, my mother, my uncles, my aunts. Godparents. Neighbors would be walking up and down the street and stop, and smoke a cigar with my grandfather. It was a wonderful community.
Q: Was the company called Tabacalera A. Fuente at that time?
A: The original company was A. Fuente & Co. It was started in 1912 by my grandfather. He was a very young man at the time. He migrated to the United States from Cuba in search of the American dream. [The factory] was known as A. Fuente & Co. till 1924, when it burned down [during] one of his visits to Cuba, where he would spend months and months during the tobacco season. He reopened again in the 1940s as the Arturo Fuente Cigar factory. It became Tabacalera A. Fuente in 1980, when we moved to the Dominican Republic.
Q: Your company has changed dramatically over the years, and this is a big one: 2005 is the 10th anniversary of the launch of the Fuente Fuente OpusX. Tell me a little about how that brand has changed your company over the last 10 years.
A: People didn't really know about the Dominican Republic at that time, especially in Florida. But we had a group of visitors, and one gentleman in particular, from Paris. He saw our factories and he said, "Carlito, you don't produce cigars, you assemble cigars. Just like the clothing companies around here: they bring in clothing, they assemble it and they export it. It's not really a Dominican product. You bring in tobaccos from all over, but you're not really producing a Dominican cigar, because the most important part is the wrapper." And that statement literally broke my heart. I was so grateful to the Dominican Republic, and I believed so much in the Dominican Republic, there was no logical reason in the world why you couldn't grow great wrappers in the Dominican Republic.
Q: It insulted you?
A: I believe God speaks to you in many ways, and I believe in destiny. I think it was a message, and this really opened my mind, to ask myself, Why not? And I started speaking to my dad about the importance of growing wrappers. And the person who is my mentor, the person who guided us in the '70s and someone who I think of every day was Angel Oliva. And I asked Angel, and the Oliva family, if they would grow tobacco for us in the Dominican Republic the way it was grown in Nicaragua.
Q: Did they grow tobacco when you were in Nicaragua?
A: Yes, along with Juan Francisco Bermejo, who was my father's partner at the time. At that time, most of the cigars made in the Dominican Republic were very mild. Most of the larger companies used marketing people, and the information they got was that the market wanted cigars that had a light aroma, very mild. At that time, it was the era of Miller Lite, Marlboro Light, everything light. That was totally against what I believe in, what I love, and what my father had taught me. I wanted something that was rich and bold, and the only way to achieve that was through the real Cuban-seed tobacco. And we approached the Oliva family, who was and still is very close to us. In the beginning, they were a little hesitant, but then my father convinced them to grow in Caribe, which is now Chateau de la Fuente [the farm where Tabacalera A. Fuente grows tobacco for OpusX and other cigars]. The first year—it was 1990-'91—they grew a whole crop of Cuban-seed tobacco. My father had made a commitment to take the whole crop.
Q: Was it shade?
A: It was sun-grown, and it was piloto Cubano, Cuban-seed from the Dominican Republic. And we didn't use any wrappers that year, but it was very promising. So we asked the Oliva family if they would grow shade-grown and use wrapper seed, and really grow wrappers, and that's when the Oliva family, especially Angel, he told me that the farm was too small to achieve what we were looking for. And he encouraged me. He said, "If you really believe in this, the best thing to do is for you to take over the operation." I was very hesitant. And I said, "Angel, can we really grow wrappers here?" He said, "Carlito, the reason we went to that farm is the soil is the closest thing I have ever seen to San Luis [Cuba.]" He said these soils were meant for Cuban-seed tobacco, not Connecticut-seed.
Q: Tell me about getting the cigars to market.
A: There was a lot of controversy about wrappers in the Dominican Republic, that this product would never reach the market, that it didn't exist. In 1993, a gentleman came to visit us from Cigar Aficionado magazine. I knew it was premature. And I was very concerned, because our colleagues in the industry were saying that this project will never be successful, that we were going to fail.
You must be logged in to post a comment.
Log In If You're Already Registered At Cigar Aficionado Online