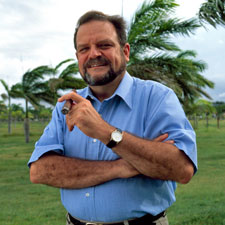 An Interview with Alejandro Martinez Cuenca
Cigar Aficionado sits down with the owner of Nicaragua's oldest cigar brand, Joya de Nicaragua.
(continued from page 5)
A: When I called for this organization to finally be put on its feet, I told them there is the possibility that Fidel [Castro] is going to pass away. Even if he doesn't pass, the reality is, now you have a Democratic majority in the [U.S.] House and Senate. I think sooner or later Cuba is going to open. What I said to that group is we should not [pull together] because of fears of Ortega. We should do it to prepare ourselves better, to continue to put the name of Nicaraguan tobacco on the minds of international consumers in the United States and everywhere else, so when Cuba opens we will not be hurt as an industry, and we will maintain the niche markets. So regardless of what happens to Cuba, we will continue to sell our products and continue to grow. Some say Cuba is never going to compete with us. But they now make 300 million cigars for the market, and you don't feel it that bad. But when they have the American market open, most likely most of the product is going to go there. The important thing is we continue to hold our niches in the American market, and whatever is left in the rest of the world, we can take opportunities in those markets.
Q: But you compete with Cuban cigars now: people in the United States get Cuban cigars now, not legally, but they get them.
A: Yes, it's true, but it's not the same as when you have, say, 50 million sticks around than when you have 200 million sticks.
Q: At that meeting, wasn't the prime area of concern for members the election of Ortega?
A: Most of the group was careful not to express too much anxiety. I don't think Ortega is going to break with the international organizations. It would be suicidal.
Q: Didn't Ortega say he was breaking from CAFTA [the Central American Free Trade Agreement] at his inauguration?
A: Ortega has never said since his inauguration he would remove Nicaragua from CAFTA, even though he signed ALBA [a cooperation agreement between Venezuela, Cuba and other countries promoting redistribution of wealth]. According to press reports, in the recent meeting Ortega held with the secretary of commerce of the U.S. in Ecuador, Ortega reaffirmed his commitment to hold to CAFTA in spite of the cooperation agreement with Venezuela. By now, Ortega should be clear in his mind that there is no return in terms of CAFTA, because such action would weaken not only Nicaragua, but would undermine any possibility of reaffirming a constructive and good working relation with the U.S. and his presidency, and I believe Ortega does not want that to happen.
Q: You know Ortega, probably better than anyone else in the tobacco industry. What kind of a man is he?
A: I met him for the first time in 1977. And then I worked with him in '78 in Costa Rica. I know the young Daniel, the middle Daniel and the older Daniel.
Q: Are they different?
You must be logged in to post a comment.
Log In If You're Already Registered At Cigar Aficionado Online