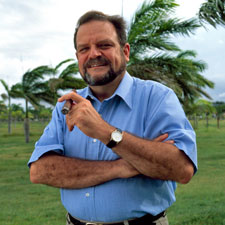 An Interview with Alejandro Martinez Cuenca
Cigar Aficionado sits down with the owner of Nicaragua's oldest cigar brand, Joya de Nicaragua.
A business leader and politician, Alejandro Martinez Cuenca is the man behind the rebirth of Nicaragua's oldest cigar brand, Joya de Nicaragua. When he bought the company in 1994, it was a faded jewel, still struggling to recover from a war that had left the factory burned to the ground and a failed social experiment in which company operations were managed by factory workers. Martinez Cuenca brought fresh ideas to the company, rehired many of its old rollers and blenders, and eventually released Joya de Nicaragua Antaño 1970, a full-bodied cigar that recaptured the taste of the brand's glory days.
Martinez Cuenca, 59, is a member of Nicaragua's Sandinista party, which sprang from the populist movement that overthrew the Somoza dictatorship in 1979. He has worked both with and against Nicaragua's recently reelected president, Daniel Ortega. Most recently, he unsuccessfully opposed Ortega in a bid to be their party's presidential candidate. Ortega had led the Sandinista rebellion, which culminated in the nationalization of industry and the seizure of land from private owners, then ruled Nicaragua during the 1980s. He first served as president from 1985 to 1990, when the United States embargoed Nicaraguan goods.
Senior editor David Savona sat down in Managua with Martinez Cuenca in January, during the week of Ortega's inauguration, to discuss the political outlook for Nicaragua as well as the revitalization of the Joya de Nicaragua brand.
Savona: Let's talk about your involvement with Tabacos Puros de Nicaragua, the maker of Joya de Nicaragua cigars. When did you acquire it?
Martinez Cuenca: Let me tell you why I acquired it. When I was 16 years old, one day my father found me smoking a cigarette, and we were living at that time at the house of an uncle here in Managua who smoked cigars. He said, Give me that cigarette—from now on you will smoke these. And he gave me a big Joya de Nicaragua to smoke. As a punishment. [Laughs.] At that moment I quit smoking. When I was 30, a friend of mine from Spain brought me a box of Davidoff, and that was my first box of cigars. It was a pure Cuban cigar, before Davidoff went to the Dominican Republic. Two years after, I became minister of trade. When Somoza left the country, this company became public, so I was asked to try to look for markets for the cigars, and I visited for the first time the factory in Estel'. This is 1979.
Q: Was it was very busy at the time?
A: Extremely busy. And my big question was, How can you replicate a cigar, with so many people participating in its creation, and make sure that it's the same cigar with the same quality and the same blend at the end of the road? How, without machines, can you do that? And that was my first big amazement about cigars. Then I went to Cuba and I got familiar with other companies that were manufacturing Havana cigars, and I always posed the same question: what makes a cigar so unique, and so human? It became a fascination to me. When Ortega loses the election, the company was loaned to the workers of the company, so they would continue producing and have something to live from.
Q: How did that work out?
A: That was 1990. In 1992, that whole project stumbled, went to pieces. Imagine 80 workers without a head.
Q: Eighty bosses.
You must be logged in to post a comment.
Log In If You're Already Registered At Cigar Aficionado Online