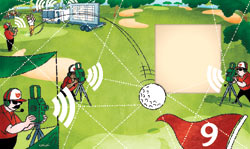 Illustration by Ed Fotheringham
No Shots in the Dark
The PGA Tour has invested millions of dollars in a hi-tech system called Shot Tracker that follows the moves of every player in a tournament
(continued from page 3)
The Tour can also learn something about the courses, and take a look at an aspect of it that the pros might be complaining about. "You can get feedback on the course setup if players are saying that a fairway is too narrow or there is a bad bunker placement. With ShotLink we can see where all the shots are hit and make an informed decision."
The television people love all of this minutiae. They've been throwing in their own little technological whizbangs as well.
"We are always trying to tell a story and ShotLink helps us do that better," says Lance Barrow, CBS producer for golf and football. "Instant data helps our commentators make instant analysis. You have to embrace technology to enhance the telecast because the viewers expect all the bells and whistles. Viewers expect more than "Second shot, 180 yards, 6-iron.'"
For the past few seasons CBS has brought into play a high-speed camera replay of a player's swing (it's the sort of camera that records bullets penetrating metal plates). It allows CBS commentator Peter Kostis to make a very detailed analysis of the rights and wrongs of a swing.
For NBC golf producer Tommy Roy, trying to show a golf course in three dimensions is also important. "The television is essentially a two-dimensional medium," says Roy. "What is really a problem in broadcasting golf is that you need to see the course in a three-dimensional manner.
There are elevation changes to the course and undulations on the greens that are crucial to know as you watch a guy play a shot. We use a live, real-time graphic package called Pinpoint from a company in London. They can precisely pinpoint where the hole is cut and all the undulations of the green, and all the undulations and elevation changes and turn it into a graphical representation. And we can use all the ShotLink data and build a very accurate representation of the shot or putt that a player faces."
The Golf Channel uses a device on two holes each week that can precisely read the break of a putt. "It's an enhancement for all the things we use from the ShotLink system," says producer Jack Graham. "The most important thing about ShotLink is that all your information is current and accurate. We don't have to wonder what someone is doing when he's out of our range. It's right there on the computers in front of us."
The United States Golf Association and the Royal and Ancient Golf Club of St Andrews, which conduct the U.S. and British Opens, are also embracing technology while not being part of the ShotLink system. Both organizations now utilize streaming videos and iPod feeds to keep their fans up to date.
So, want to hit the links yourself while a tournament is being played, even though your fantasy team is making a hash of the $100 bucks you put up? Head for the club computer on the turn and you can find out all the grim news, every bloody shot. The PGA Tour has you connected, wherever you might be.
Jeff Williams is a Cigar Aficionado contributing editor.
You must be logged in to post a comment.
Log In If You're Already Registered At Cigar Aficionado Online