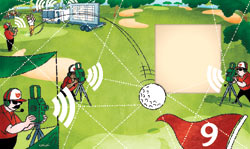 Illustration by Ed Fotheringham
No Shots in the Dark
The PGA Tour has invested millions of dollars in a hi-tech system called Shot Tracker that follows the moves of every player in a tournament
(continued from page 1)
In the Techno Age, you can be there even when you aren't. You don't have to wonder what your fantasy player did to shoot a 77; you can pinpoint every miserable shot and every missed putt. The statistics will tell you if he was below average in hitting the fairways, in getting up and down from the bunkers, or in making putts from less than eight feet.
Behind these simple lines and stats is a complex and expensive effort that involves as many as 14 PGA Tour staffers and up to 350 tournament volunteers every week. In fact, without the volunteers none of this would happen. The PGA Tour won't say how much it costs them to produce Shot Tracker, but it owns two command center trucks set up much like a television production center. Each truck is equipped with the handheld devices for the walking scorers, the lasers that measure the distances and scores of laptop computers that are deployed throughout the Tournament site. There are millions in those trucks (they leapfrog each other from tournament to tournament) and seven-digit costs to staff them.
The information is transmitted to the glitzy scoreboards throughout the course (which are also communication points for the system). That information is updated as each group comes through a hole where a scoreboard is located. It goes to computers in the hospitality tents and the media center. It goes to the television broadcasters who gobble up everything they can get from the system, which is known as ShotLink. And it goes to you, sitting at your desk at work or maybe at your local Barnes & Noble. Heck, with an air card for your laptop, you could be sitting in a boat fishing for bass and know that Vijay Singh just conked a carp on the head in the pond in front of the ninth.
"We get a lot of positive feedback from people using Shot Tracker not only because they see what a player is doing, but they can go back and see how he has done during the round, and can go back to the previous round as well," says Evans. "People who have an affinity for a player or several of them who may not be able to get to a television that day, Shot Tracker can help them understand what they did during their rounds that day with a lot of detail."
In a very simple form, here's how it works.
Walking scorers are trained in the use of a handheld device that records the shots of each player in a group. The scorer logs in whether a drive is in the fairway, rough, a bunker or a hazard. For approach shots or tee shots on par 3s, the scorer logs where the ball comes to rest, on the green, rough or in a hazard. On every hole there is a laser station behind the green that measures putts or shots from around that green. On the fairways of every driving hole there are other laser stations that log the distances of drives (and by extrapolation the distances to the hole). On par 5s there can be two fairway laser teams.
All of this information is relayed through the communications system to the command center truck where at least three PGA staffers are monitoring the data at any given time, looking for errors or anomalies. If a walking scorer has recorded the player is in the fairway but the laser shot of his ball indicates in the rough, Aaron Spearman, one of the command center staffers, has the ability to communicate by radio to any of the scorers or laser operators.
The ShotLink application puts together all the data to yield a graphic representation of each shot and produce a statistical profile of each player that will be updated after every shot he hits. It's not exactly NASA shuttle launch stuff, but it's darn impressive nonetheless. And, like the PGA Tournament itself, it wouldn't be possible without a large volunteer base.
"We are a very fortunate organization that each of our golf tournaments is focused on generating charitable donations, because of that there is a strong spirit for volunteering," says Evans. "One thing we pride ourselves on is that we want the volunteers to feel like they have made a signification contribution. When they go home they can see the ShotLink data that they have helped to compile on their computers. They can also see it used on the television broadcasts."
The Travelers Championship at the TPC River Highlands in Hartford, Connecticut, is one of the longest standing tournaments on the PGA Tour. Its volunteer base is so dedicated that more than 90 percent return year to year. Mark Hayes has been a walking scorer for the Tournament for 18 years, going back to the paper days of scoring. Once, scorers simply recorded stats on paper. They would tear off a strip of scores after the completion of each hole, and hand it to a volunteer at greenside who would use a phone or a walkie-talkie to report them to scoring central where they would be posted in a timely, but certainly not instant, manner.
You must be logged in to post a comment.
Log In If You're Already Registered At Cigar Aficionado Online