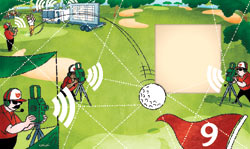 Illustration by Ed Fotheringham
No Shots in the Dark
The PGA Tour has invested millions of dollars in a hi-tech system called Shot Tracker that follows the moves of every player in a tournament
As Tiger Woods was winning the AT&T National in July, he was making hash of the 11th hole on Sunday. The long par 4 was his nemesis that week, the television commentators said. He had played it in five-over-par for the four rounds and he hadn't been able to put two shots together on the hole. Or so they said.
You weren't there to follow Tiger every round? You weren't able to steal away to watch him on television? If you wanted to know just how badly he played the 11th in every round—every bad drive, poor approach or missed putt—the PGA Tour had your answers. Just call up Shot Tracker on pgatour.com and every ugly shot in every round was there, with all the exact yardages and the putting distances right down to the inch.
Golf has always been the most demanding of spectator sports. Golf's arena could hold a hundred football fields or a thousand basketball courts. From home base to deepest centerfield in the biggest Major League park is nothing but a short par 3 on a golf course.
So the golf spectator, steeling himself against the elements, makes choices about how he watches the game. He can follow his favorite player over miles of fairways, he can search out an advantageous grouping of tees and greens, or he can sit in a grandstand overlooking a single hole and watch a procession of players come through. Usually it's a combination of all three opportunities. For the privileged, there are hospitality tents with views, roasted asparagus, cold brews and television sets.
There is no substitute for being there. Strolling through the parkland, listening to the crisp clip of an iron shot or the cannon retort of a drive, there is a feeling of connection to the game that other sports just don't quite provide, especially considering that golf spectators are also likely to be players themselves, in varying degrees of hackerdom.
But the importance of actually being at a golf tournament began to change in the 1960s when Arnold Palmer dragged his sport into the tele-vision era. His star power was so magnetic that he brought millions to the game who would have otherwise preferred to watch grass grow. Television also consolidated how one watched the game, making each of a golf course's 18 arenas function as one. You could sit at home with your own cold brew and know where the action was at any moment. You could see all the crucial shots while getting analysis and anecdotes from the commentators.
At The Players Championship in May at TPC Sawgrass in florida, a ShotLink volunteer uses a laser spotter to record the tee shots of players at he famous 17th hole island green.
Today, technology is changing the way we stay connected to the game, and it keeps you abreast of Tiger, Phil and your fantasy team. The PGA Tour, with an investment in the multimillions, has developed the Shot Tracker application on its pgatour.com Web site. Through it you can keep track of every shot. You can get a bundle of statistics that tell you where your favorite player stands in the field, for driving distance, for approach accuracy, for putting efficiency.
No, it's not the same as being there. But for millions every week Shot Tracker is a link to the game, a way to stay connected beyond the mere posting of scores. You can't see a duck-hooked drive or a chunked iron or a stabbed putt, but Shot Tracker gives you the blow-by-blow in real time with all those statistical bells and whistles that the American sporting public craves. It's customizable, allowing its users to focus on specific players or groups throughout a round. Plus, Shot Tracker feeds the television broadcasters every week, giving them data that allows them to build the story even when they can't have a pair of eyes or a camera on each player.
The man behind Shot Tracker and the evolution of technology within the PGA Tour is Steve Evans, the Tour's senior vice president of information systems. For 22 years Evans has been looking for ways to use technology to enhance golf's viewing experience, to carry it past watching and more toward participating. "We wanted to take data and turn it into information," says Evans. "Then we wanted to take information and turn it into knowledge. Then we wanted to take knowledge and turn it into entertainment. We wanted to explain what was happening on the golf course to people who weren't there."
You must be logged in to post a comment.
Log In If You're Already Registered At Cigar Aficionado Online