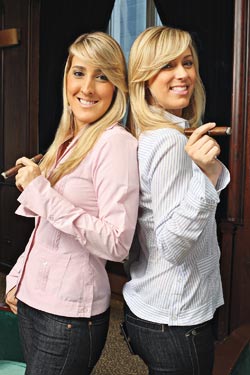 Patricia, left, and Raquel Quesada have worked in the family cigar business since 1997 and 2000, respectively.
Generation Next
We look at the youth movement in cigars, from the fifth generation of Quesadas, to the Perez-Carrillo children and the Levin young guns at Ashton.
(continued from page 2)
It's not easy to walk away from one of the best-known cigar brands in the world. Moving into the arms of your children makes it easier. In March, 57-year-old Ernesto Perez-Carrillo left the La Gloria Cubana brand, the cigar that was the hottest cigar brand in America in the early 1990s. Perez-Carrillo left to work with his children, daughter Lissette, 35, and son Ernesto Perez-Carrillo III, 27.
"One of the main reasons I decided to leave is that my children want to get involved with the new company," Perez-Carrillo said at the time. "The opportunity to work with my kids is a once-in-a-lifetime opportunity." His daughter worked as a lawyer, his son was a private equity executive with Kohlberg Kravis Roberts & Co., the famous leveraged buyout firm. They are "two of the people that I trust most in my life," said the elder Perez-Carrillo during a family lunch in late June. Though eight years separate his children, they could almost pass as twins with their jet-black hair and lean frames. Lissette has her father's intense, piercing dark eyes and both have inherited his distinctive jawline.
In the late 1970s, when La Gloria was largely unknown outside of the Little Havana neighborhood in Miami where it was rolled, young Lissette would watch her father work and sometimes lend a hand. "As a child I would go to the factory very often," she says. When she was five, six and seven, she would band cigars, and put them in cellophane. As a tween, she would work on customer lists, then later she went to trade shows. All that time spent in a cigar factory had an impact, imparting upon her a knowledge of Cuban slang that perplexed her friends. "These colloquial Spanish terms—my friends would say, 'How do you know that?'" she laughs.
In college, Lissette helped her father and mother with shipping cigars, and took orders over the phone, particularly when a certain cigar magazine profiled La Gloria's then small operation in Miami, running a photograph of the family. "It was surreal—the phones wouldn't stop ringing," she says.
When Ernesto Perez-Carrillo left his La Gloria Cubana brand in early 2009, he turned to his son Ernesto III and daughter Lissette for help in creating a new venture making E.P. Carillo cigars.
Like their father before them, Lissette and Ernesto III were encouraged to seek their own careers, not just join the family business. Their cigarmaker father tried a stint at drumming before dedicating himself to the cigar business, thumping the skins for several bands, including Tu Madré, and The Shadows (who once opened for KC and The Sunshine Band). "They were going to do their own thing," says Perez-Carrillo. "It's good to let kids go and do what they want, like when I wanted to be a drummer—now there's no looking back in regret."
Lissette went to law school, got married and had two children; Ernesto III began working in private equity and consulting. Each hoped to return to the La Gloria business. "I was the only one [in law school] who said my goal was to go back to Miami and run a cigar factory," says Lissette.
But the business had changed—production of La Glorias soared after 1995 when, to meet burgeoning demand, Perez-Carrillo began rolling cigars in the Dominican Republic on a scale six times larger than at his tiny Miami facility. Then the offers came rolling in. Ernesto Perez- Carrillo fielded six serious offers for his El Credito Cigars Inc., and finally sold his company to Swedish Match AB (now the parent company of General Cigar) in 1999 for an estimated $40 million. Even though the numbers involved were life-changing he labored over the decision to sell (Perez-Carrillo had even turned down a larger offer).
"He tried to find every excuse not to do it," says Lissette. Admits her father: "It was hard for me to sell the business at first."
But Swedish Match didn't just want the brand—they wanted Perez-Carrillo to continue making it. Soon Swedish Match acquired General Cigar Co., the maker of Macanudos, and El Credito became a part of General. Having the much bigger company's sales force behind him helped move La Glorias at an unprecedented rate.
You must be logged in to post a comment.
Log In If You're Already Registered At Cigar Aficionado Online