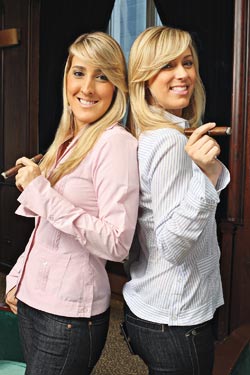 Patricia, left, and Raquel Quesada have worked in the family cigar business since 1997 and 2000, respectively.
Generation Next
We look at the youth movement in cigars, from the fifth generation of Quesadas, to the Perez-Carrillo children and the Levin young guns at Ashton.
The mysteries of the cigar business have long been passed down from generation to generation, typically from father to son, often when that son reaches his 40s or 50s. But there's a new movement in the cigar business where a new, far younger generation is coming into its own. Instead of making phone calls, they do text messages. While their fathers carried matchbooks, they live on Facebook. And you're more likely to find them wearing designer clothing than khaki pants and plaid work shirts.
At three prominent cigar companies, this next generation of cigar personalities—many of them female—is beginning to make their impact on the industry. And some have already created their own cigars.
The Quesadas — The Fifth Generation
The most dramatic youth movement in the cigar industry is happening in Santiago, Dominican Republic, inside the wood-paneled walls of Manufactura de Tabacos S.A., or Matasa. This 35-year-old company, the first to roll cigars in Santiago's original free trade zone, is operating more and more under the influence of five 20- and 30-somethings who 63-year-old factory owner Manuel (Manolo) Quesada collectively refers to as "the young ones." They also go by the term "the fifth generation," as they are the fifth generation of Quesadas to work in the tobacco business.
"The young ones," says Manuel Quesada with his typical deadpan humor, "are building the pillars for my monument."
Ranging in age from 24 to 33, the youngsters have injected new life into the company. They are led by Quesada's two daughters, Patricia, 33, and Raquel, 31, attractive blondes with generous smiles and Blackberrys that sometimes seem to be living extensions of their arms. Patricia, who calls herself "the spokesperson of the fifth generation," focuses on administration, while Raquel spends most of her time on the production floor. Manuel Quesada's niece, Esther Quesada, 32, runs the tobacco farm and the leaf warehouse. Nephew José Manuel Bermudez, 28, known as Blondie for the color of his slicked-back hair, designed the company's Casa Magna label. He runs the box factory with help from Hostos Fernandez Quesada, 24, a slim, bespectacled nephew who just graduated from college and has a knack for technology. The newest member of the next generation, nephew Terence Joseph Reilly, joined the group just this summer, bringing the total from that generation to six.
With a father and grandfather running a cigar factory, Patricia and Raquel have been around cigars all their lives. They visited Matasa from an early age as well as the tobacco fields run by their uncle. Patricia has worked for the company longer; she began in late 1997, starting "at the bottom," going through each department, even cleaning floors, before settling in administration and accounting. Raquel started in 2000 and soon showed a knack for blending a cigar, participating in the blending of the Matasa 30th Anniversary, the Fonseca Cubano Viso Fuerte and the Fonseca Cubano Limitado, where she has taken "top billing," on the box, says her father. "Raquel is the second in command in the factory," he says.
Raquel has even been known to do more than a few things without her father's consent, which inevitably leads to discovery, then a dreaded page over the Matasa public address system. Patricia mimics her father's voice, describing what happens: "'Raquel Quesada, extension 23.' When you hear that," she says, beaming, "go the other way." The girls also reveal that their father's bushy salt-and-pepper mustache has a habit of going up when he's angry.
So what gets her in trouble? "She changes my blends," Manuel says with a laugh. He says that he selects a blend, instructs Raquel to have the factory make it, then when she brings him a finished cigar (naturally leaving his office posthaste) he notices the difference when he takes a puff. That's when he reaches for the P.A. Later, he usually realizes that the change is beneficial. "It's OK," he says, showing considerable fatherly pride in his little girl's knack for making a cigar.
There's just the hint of good-natured sibling rivalry between the sisters. "Patricia is the one who always got what she wanted from my father," says Raquel, smiling. "I got everything from my mom." Patricia smiles as well. "I know when he says 'no' how to get a 'yes.'" Raquel calls her father "Quesada" at work, something Patricia cannot do—"I call him Papa," she says.
You must be logged in to post a comment.
Log In If You're Already Registered At Cigar Aficionado Online