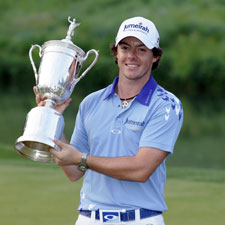 David Cannon/Getty Images
The Wee Irish Golfer
Rory McIlroy has already earned the highest respect of his professional golf rivals while climbing into the world's Top 20
(continued from page 2)
McIlroy was a decent student at Sullivan Upper School, but even his principal knew that his destiny lay not in the academic corridors but in the manicured fairways of the world. "We cut him a lot of slack purely because he was so talented and it was clear from the early days that golf was his future," says John Stevenson, the principal. "His career was going to be golf and the last thing I wanted to do was have his school get in the way of this young man's future."
Still, so much of his life centers on learning to be a better player. Like Woods, he is a tireless worker and curious about every aspect of the game. At last year's Omega Masters in Switzerland, he learned two things: how to deal with losing a final-day, four-shot lead that would delay his first European Tour victory; and: how to play better bunker shots. It's that bunker lesson that endures.
He saw that the Australian Brett Rumford, considered one of the world's finest bunker players, was practicing his specialty. He introduced himself, sat down behind him, and watched shot after shot, taking mental notes on Rumford's stance, ball position, swing rhythm, grip, hand action. It's the sort of thing he's done since he was eight, the sort of commitment to the game he made at that age, much in the same way as Tiger Woods.
"My dad's a scratch golfer and I've got the knack for seeing something and then replicating it," says McIlroy. "I saw my dad swing a club and I worked out how to do the same thing."
As his coach, Bannon no longer sees a reason to do much with McIlroy's swing other than to make sure he maintains his efficiency. "I'm just checking to make sure he's where he needs to be," says Bannon. "I know that Sam Torrance said after he saw him that he wouldn't change a thing. You never know if his body changes anymore as he grows where you might do something. Rory also works out a lot and has a very strong core. It's just a wonderfully efficient swing, and he's been hitting the ball in the middle of the clubface every swing since at least the age of 12. That's got to be a god-given talent."
McIlroy's stage seems to be the world of golf, not some place that will be defined by the PGA Tour. Early this year, Chubby Chandler, was quite clear that he's looking for opportunities for McIlroy worldwide and that McIlroy has no reason to accept a specially offered PGA Tour card.
"There's absolutely no point in him taking out his PGA Tour card," explains Chandler at the Accenture Match Play Championship in Tucson. "Suddenly he's got to play 15 tournaments. Suddenly they start dictating to you. Rory's going to be young for a while yet and he's going to want to go home and have a bit of time out with his pals. Money's not the issue. "And why does it have to be America? The players to watch are Danny Lee [New Zealand] and Ryo Ishikawa [Japan]. They are the two huge stars coming up because of their connection with Asia. So America doesn't really matter, and if Rory ends up with a rivalry with Ishikawa, then that's huge."
Success doesn't seem to have spoiled Rory McIlroy, though at some point it will change his life. He seems to know and accept this, but at the same time, he seems as determined to hold onto his roots as he is to become one of the best players in the world.
"It's going to be hard," says McIlroy. "But I won't ever forget my mum worked in a factory in Bangor for 15 years and she did night shifts because the extra money helped fund my golf. My dad managed a bar in Holywood during the day and he looked after a sports club in Belfast. They did it for me.
" They are probably prouder of the way they've brought me up than for anything I've done on the golf course. My mum is very much like that. She wouldn't care if I shot 66 or 86 as long as I did it with dignity."
You must be logged in to post a comment.
Log In If You're Already Registered At Cigar Aficionado Online