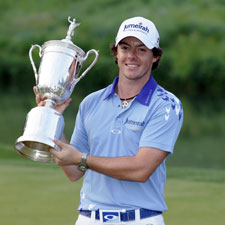 David Cannon/Getty Images
The Wee Irish Golfer
Rory McIlroy has already earned the highest respect of his professional golf rivals while climbing into the world's Top 20
(continued from page 1)
"The path he chose to tread was chosen at a very young age," said Clarke. "That boils down to the whole Tiger thing. Because of Tiger, this is what he does, he practices this way, he works out."
McIlroy has always been precocious, to say the least. At age nine he won a boys' world title. At 15, he became the youngest player to win the West of Ireland Championship. At 16, he was the youngest winner of the Irish Close Championship. He shot a 61 at the magnificent Royal Portrush, smashing the course record. At 18, he qualified for his European Tour card faster than anyone had ever done. He cracked the world Top 50, and had salted away more than a million Euros in purse money. He also already had sponsorship deals.
"I know I have packed in a lot for the age I am," McIlroy told Ireland's Sunday Tribune before he turned 20 recently. "I've traveled the world playing golf and I think that's why at quite a young age I have been able to learn from the older guys. I think one of the reasons I've done OK this year is that for as long as I've been playing, I've always been the youngest person to do this or that. I've always played with people who are older than me and that's made me a very mature 19-year-old."
There is a word that comes up often when others talk of McIlroy—fearless. "By the age of 11 he was starting to show how much better he was than the others," says Bannon. "He was a small boy, but he was winning matches against the bigger lads. There was absolutely no fear in him."
Pat Murray is the manager of the Limerick Golf Club and a fine player who came up against the 13-year-old McIlroy and was immediately impressed. "He was phenomenal," says Murray. "He hit it longer than the men. He had a great short game, great head for the game. He was absolutely fearless. He'd go for every flag and worry about the consequences later and there were seldom any great consequences. And he was a very nice lad on top of it all. No arrogance or cockiness. He's a very good team player. He's not afraid to say what he has to say, and he will help others. He's not like some that when they are finished with the golf they are off to bed and you don't see them until the morning. He likes to have fun with the lads."
P.J. Collins, president of the Irish Golf Union and a fellow Ulsterman, has seen all the top contemporary Irish players, Clarke, Padraig Harrington and Paul McGinley.
"Rory's far ahead of them at this age," says Collins. "Darren Clarke was an impressive ball striker at Rory's age, but he didn't have the short game. I was amazed at how Rory could maneuver the ball at an early age. I remember him hitting a 2-iron into a strong wind at the Island Golf Club, how he held the ball into the wind. For someone that age to do that, it was very impressive. He's by far the best we've had in years. He already had his own coach, so you don't fix what isn't broken."
And, of course, he also sees McIlroy as undaunted. "He plays very fast, just gets on with it," says Collins. "He sees the shot, hits and deals with the consequences later. Absolutely fearless. He's an aggressive player and has a charming bouncy personality. He's not a clone."
No, that he is not. And he is still capable of being a teenager and doing what normal teens do. He enjoys music, takes his girlfriend to The Box, a nightclub in Belfast he describes as "sweaty," enjoys watching the local rugby clubs and is a fan of the Manchester United soccer team.
Unlike Woods, who lives in a bubble in Orlando and moves about his world guardedly, McIlroy still revels in the everyday life of Northern Ireland. "This is the great thing about Northern Ireland," he says. "I walk down the street and people stop me and say things like, 'I know you. You're that wee golfer, aren't you?' I say, 'Yeah, that's me.' They say, 'Keep it up, wee man.' It's very funny and that's why I want to stay here as long as possible. I'd hate to lose all that. Tiger is amazing but look at the things he can't do. He can't go to the cinema or walk to the shops. I don't know if I'd want to give that up to be like him."
You must be logged in to post a comment.
Log In If You're Already Registered At Cigar Aficionado Online