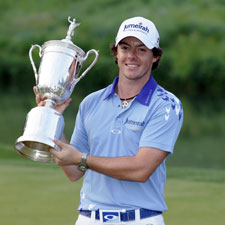 David Cannon/Getty Images
The Wee Irish Golfer
Rory McIlroy has already earned the highest respect of his professional golf rivals while climbing into the world's Top 20
Rory McIlroy won the U.S. Open on Sunday in a show of pure dominance. He led for all four rounds, shattered records, and brought Congressional Country Club to its knees. Back in 2009, Cigar Aficionado profiled the young golfer, dubbed "The Next Big Thing" in golf. Here is the story.
The Next Big Thing in golf comes in a small package. He's not the product of an American college juggernaut or fancy golf academy. He looks more like a member of the Brady Bunch than an elite, world-class player. Once you see Rory McIlroy let fly with a 300-yard drive or crisply smack an iron or deftly loft a pitch, there is little doubt this Northern Ireland youngster is the complete package, a player destined for success as was his idol, Tiger Woods.
"He has all the components to be the best player in the world," says Woods, the best player in the world. And Ernie Els, the three-time major winner and himself consistently among the world's best, has this to say: "I think we are looking at the next world No. 1 in him." What does McIlroy have to say about what people are saying about him: "You can't let those things sort of get into your head. But it's nice for those guys to say those things about me. It fills you with confidence that you're doing the right things. You still have to go out and play good golf at the end of the day."
McIlroy, all five foot, seven inches 160 pounds of him, has been playing plenty of good golf. At the age of 19 he won his first professional tournament, the 2009 Dubai Desert Classic.
That win, along with good steady play last season, helped him break into the Top 20 in the world golf rankings. As a result, he played in his first Masters Tournament as well as gracing Sports Illustrated's cover for the Masters preview. His surprisingly powerful swing emanates from an unimposing body, in the manner of the Wee Welshman, Ian Woosnam. That power, combined with a wicked short game, puts him decidedly on the trail of golf's elite.
Mark O'Meara, mentor to Tiger Woods as a teenager and young professional, knows what he is looking at. "He's better than Tiger was at 19," says O'Meara. "There's no reason why he can't win a major championship. He's got it." Where did he get it?
This tousled-hair 20-year-old, whose cap can barely contain his unruly locks, caught the golf bug growing up in Holywood, Northern Ireland, on the outskirts of Belfast. His father, Gerry, a scratch player, was a bar manager, his mother, Rosie, a worker at the 3M factory. Rory, their only child, who was hitting a ball with a cut down club at the age of two and was a junior member at the Holywood Golf Club at age eight, was winning big Irish amateur tournaments by age 15. He was so young, talented and dedicated to becoming a world-class player that his father started working three jobs to support his career and even built a 1,200-square-foot, flood-lit green in the family's backyard.
Michael Bannon, the pro at the Bangor Golf Club and Rory's coach since he was eight years old, saw in him talent and desire that would not be denied. "He could do things that others couldn't," says Bannon. "He could shape shots and had a real feel for the game. His mechanics were not all that brilliant, but he definitely was going to get better. He had a real tunnel vision for the game. Would spend hours and hours practicing, you have no idea. His parents would want to sit down for dinner on Sunday and have a bit of rest and he would tell them he had to go to the range and hit balls. They weren't exactly pushing him to do this. He had his own drive."
By the time he was 12, he had come to the attention of Darren Clarke, who would become a mentor to him and invite him to his Darren Clarke Foundation Academy, which helps promising young golfers in Northern Ireland. He introduced Rory and his parents to Chubby Chandler, the head of International Sports Management, the agency that manages Clarke, Ernie Els and Lee Westwood, and now is directing McIlroy's career.
"He stood out straightaway," says Clarke. "He didn't hit quite as far as he hits it now, but he still hit it pretty hard when he was 12. As a professional you can always spot someone who has got the talent but you don't know who is going to make it and who is not going to make it. I pretty much knew what he was doing from a very young age.
You must be logged in to post a comment.
Log In If You're Already Registered At Cigar Aficionado Online