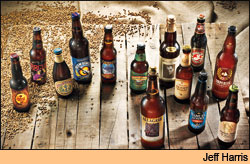 The craft brewing revolution presents the American beer drinker with a kaleidoscope of styles that are big, bold, tasty and, most of all, different.
Choice Brews
How craft brewing started a revolution and opened up the American palate to a wide selection of ways to enjoy a favorite national beverage
(continued from page 3)
But how far will craft brewers take the beer palate?
Grossman protests that "our pale ale is the beer we make," with a focus on drinkability. "We still make the same beer and do the same things." Except that the company also puts out a number of stouts and porters as well as special releases, and now its first new year-round release in 29 years, something called Torpedo Extra IPA, which at 70 IBUs is bested only by its Bigfoot Barleywine Style Ale. Grossman demurs that he hasn't elevated the bitterness units merely for the sake of doing it, but rather in the interest of taste. Then he begins to describe the hop torpedo that was devised to make the beer and belies his passion for the craft. "It infuses hop oil into the beer like an espresso machine. The oils go up into the steam and the beer goes through the hops at the end. It's a new way of dry hopping."
The possibilities and the market for innovation are almost unlimited, says Tod, who started with Belgian beer 15 years ago because of its very elements of experimentation. "Luckily the drinking public is very interested in this." He recounts creating Interlude, the first of an experimental series that is brewed with two strains of yeast and partially aged in wine casks. "We weren't even sure people would buy it. It drank like wine. But we've been blown away by the demand."
While the large part of Koch's sales comes from his mainstream lagers and ales, it is hard to imagine that he won't continue to create tiny oddball releases like his Utopia and Millennium (particularly since demand has them selling on a consignment basis) because innovation seems to be in his blood. "Leading is never easy, but what would have been easy is to sell out."
You must be logged in to post a comment.
Log In If You're Already Registered At Cigar Aficionado Online