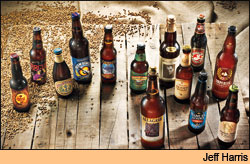 The craft brewing revolution presents the American beer drinker with a kaleidoscope of styles that are big, bold, tasty and, most of all, different.
Choice Brews
How craft brewing started a revolution and opened up the American palate to a wide selection of ways to enjoy a favorite national beverage
When the extreme-beer pioneer Sam Calagione and the Philadelphia sommelier Marnie Old debuted their book He Said Beer, She Said Wine, a debate in print on which of the two beverages pairs best with food, they trotted out a road show that presented a five-course meal, including meats, vegetables, cheeses and even chocolate desserts, next to a wine and a beer selection for each. The authors bantered tongue in cheek, defending the drink each championed. He'd say beer was invented first and has more ingredients, she'd say wine is more refined with a more diverse palate. Then the audience would taste and vote.
Neither the outcomes—which averaged to a near toss-up—nor the explicit points about beer and wine were as remarkable as something that went unsaid: their very demonstration would have been implausible 30 years ago. The reason? The spectrum of available American beers could never have competed with wine's ability to pair with food unless the five courses were limited to hot dogs, hamburgers, pizza, pretzels and beer nuts.
Three decades ago, domestic beer was all but relegated to a narrow band of lagers from a small group of major manufacturers who were becoming fewer every year. In 1980, they numbered just 44, and the choice of flavors they offered generally ran the gamut from light to lighter. But by 2001, close to 1,500 small breweries had joined their ranks. Today they pump out a kaleidoscope of beers in styles that are big, bold, tasty and, most of all, different. Borrowing from traditional styles and creating a growing number of their own, craft brewers have presented the American hops enthusiast with everything from brown ales, India pale ales, flavored wheat ales, bitters, stouts and porters to bocks, doppelbocks, hefeweizens, fruit and herb beers and Belgian style, to name a few. In short, enough choices exist to engineer any imaginable food pairing.
And a market exists for almost any beer style that can be dreamt up. Hilton Ruiz, co-owner of New York City's New Beer Distributors, which specializes in micro- and craft brews, describes a customer base that is full of hobbyists in pursuit of the unusual: "They learn by word of mouth what new beers are coming out and are waiting when the trucks are going to unload." Since about 2000, craft beer has taken over from imports as the focus of his merchandise. After imitating Europeans, domestic brewers, Ruiz says, have become equivalent to and in some cases better than the masters. This may be borne out by the results of last year's World Beer Cup, which was dominated by American brands.
While beer meant for easy consumption still leads American sales, a small corps of ardent brew lovers—beer geeks if you will—have taken taste in new directions. Now the revolution that took off in the early 1980s has entered a new phase of extreme beers that makes it difficult to imagine what strange brews are to come. Rob Tod, owner of Allagash, a Maine brewery known for Belgian styles and interesting barrel aging, says, "Every time you turn around someone is redefining what beer is."
As brewers push the envelope of beer styles, that definition moves in several different directions. Calagione, who founded Dogfish Head Craft Brewery, of Delaware, has been locked in a friendly competition with craft-brew legend Jim Koch, of Boston Beer Co., maker of Samuel Adams, to see who can create the strongest-proof beer after Koch made Triple Bock at 17.5 percent alcohol in the early 1990s. Typical beers hover somewhere around 5 percent. With the 2007 release of Utopia, Koch placed the bar at 27 percent. Ruiz says about half his clientele are seduced by "the hard stuff. The others say, 'Give me something strong but good.'"
Another hard-fought front is in bitterness. The craft beer revolution has been traditionally measured by that quality, which hops bring to beer, but new methods of drizzling hops through the brewing process has cranked up IBUs (International Bitterness Units) to almost 10 times the bitterness of standard Budweiser or Miller (a little over 10 IBUs). Ken Grossman, cofounder of Sierra Nevada Brewing in 1980, recalls, "We were outlandish at 37 IBUs. Today we are in the middle of the pack."
Add to that the thrust toward different flavors, such as the Dogfish Head Theobroma, made with Aztec cocoa powder and cocoa nibs, honey, chilies and annatto seeds, and it's easy to see how the genre is quickly evolving into something Joe Sixpack would hardly term beer.
Ironically, some of the first craft brewers took pride in their return to traditional German methods, which legally stipulate the use of only barley and hops. (American brewers who added corn and rice adjuncts to the mix were seen as having adulterated beer.) Now Allagash and many others are looking to Belgium and its looser interpretation of beer that allows flavoring and uncultured yeast, while typically including white wheat. The lambic style is fermented spontaneously with yeast that floats freely in the air. As much of this is based on past brewing methods, who is to say it is not traditional? Even the Theobroma is based on the chemical analysis of fragments of pottery found in Honduras that once held the earliest known alcoholic chocolate drink.
But beers of diverse flavor aren't the latest thing in America. In 1620, the Pilgrims put in early at Plymouth Rock (their original destination was Virginia) partially because their ale supply was running low. Considered a healthy substitute for the often contaminated water, beer was an important part of the colonists' diet, and was brewed in the many strong styles they brought from Europe. By the nineteenth century, most towns had a brewery and cities had several in order to serve each neighborhood. Spoilage dictated brewery size and placement. Makers stayed close to their customers until Anheuser-Busch started pasteurizing beer in the early 1870s, and a decade later shipped it in refrigerated railcars. The first steps toward the lightening and the homogenization of the American beer palate were taken by such beer barons as Adolphus Busch and Captain Frederick Pabst, who correctly surmised that the style of beer called lager would cater to higher consumption (what beer nerds now call "session drinking" and Budweiser means when it touts "drinkability"). Storage innovations and the advent of bottled beer helped establish the first national markets.
You must be logged in to post a comment.
Log In If You're Already Registered At Cigar Aficionado Online