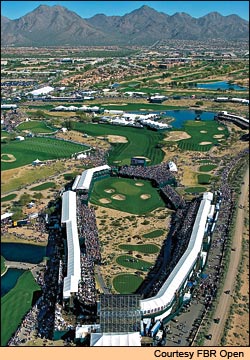 There is nothing like the 16th hole anywhere in professional golf. This year, the grandstands were extended to completely surround the par-3 hole, which plays shorter than its 162 yards.
The PGA Tour's Party Central
The February stop in Scottsdale, known today as the FBR Open, is simply the most raucous, outrageous, unruly four-day golf competition anywhere
(continued from page 3)
Yes, in the tens of thousands of people who attend every day, in the 150,000 or so people who attend on Saturday, are the highest percentage of spectators on the PGA Tour who don't know the difference between a tee and a green. It doesn't matter, either. They are here for the party, and everywhere they turn, it's going on.
The tournament, and the 16th hole itself (which is sometimes called The House That Phil Built), is testimony to Arizona State grad Phil Mickelson's local star power. But the tournament now feeds off itself as a place where bare chests meet bare midriffs, where the overlapping grip is more likely to be used for a cup of beer and a Thunderdog from the hot dog stand near the 16th bleachers run by longtime Thunderbird Martin Calfee.
"This tournament has always been about having fun," says Calfee. "We've had the best here: Arnold Palmer, Jack Nicklaus, Lee Trevino, Johnny Miller, Tiger Woods, Phil Mickelson. "We've had great tournaments. I come back here and run this hot dog stand every year and I don't get to see a lot of golf. I tell my wife it's fun. And it is. That's what we want it to be for everyone."
Jeff Williams is a Cigar Aficionado contributing editor.
You must be logged in to post a comment.
Log In If You're Already Registered At Cigar Aficionado Online