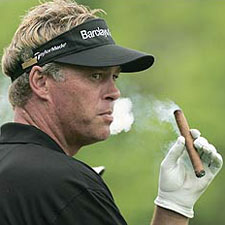 The Good Times Golfer
Darren Clarke is emerging from the grief over his wife's death from cancer in 2006, and beginning to regain his zest for life, and golf
(continued from page 2)
With his good friend Westwood he owns a Challenger jet, a plane that allowed him to take Heather to tournaments and cancer treatments more easily when she had become wheelchair bound. He is also a partner with Westwood in a horse syndicate, though horses are more Westwood's passion than his own. "I think we own seven, eight, nine horses together. Don't ask me because I don't know," says Clarke. "Horses really don't interest me at all. We were together in some horses when we started and then I lost interest. We had one called Grand Jetty that won lots of races, but of course that's the one I ended up not being involved in. Because of the stick and the grief and the hassle they've given me, I've had to back in again. That's the reason I'm in, so they can't give me stick in case we find another one."
It's been 13 years now that Westwood, an Englishman, and Clarke have been close friends. They are quite comfortable giving the business to each other, the stick. When Clarke won in Shanghai, he got oodles of text messages, and of course one would be from Westwood. "He said congratulations followed by a whole bunch of F-words," says Clarke.
"We're pretty similar, like to go out and have a drink and some fun," says Westwood. "I'm more of a vodka drinker, he's a Guinness drinker. I don't think many people could keep up with him, and it's unwise to try to do so. He likes having a cigar, if he can find a place where he can smoke one anymore." Without saying, he likes being in the winner's circle again. Clarke made a decision to stick to the European Tour for the 2008 season, partly to regain his confidence as a contender and partly to be closer to his boys and get home on Sunday nights after tournaments. Clarke has never been a prolific winner, likely because his emotional makeup—never afraid to laugh, never afraid to cry—sometimes gets in his way.
"Darren has always found winning difficult," says agent Chandler. "He's never won as much as he should have. He managed to keep his family and friends on the edge of their seats more than he had to in Shanghai. The right things never seemed to happen to him at the right time. That 40-footer at the last hole would be one of those times when the right thing happened. It's been six months of emotional improvement. You can't imagine how emotionally draining the last four years have been."
Clarke turned 40 in August and, according to Murray, his best years could be ahead of him. He's hired a new physical trainer and fellow professional golfer, Rob Watts, a "bio-mechanic," as Murray puts it. He has a putting consultant, Stephen Feeney, who works with champion darts and snooker players on their targeting skills. He brought Murray, a Sky Sports television commentator, into his entourage just before Heather's death.
"At that point he didn't need a coach. He needed a friend to walk around with when he knew things were poor," says Murray. "He knew there was going to be a spell where he wasn't going to be competitive. I thought it would be a year and it turned out to be 15 months. During that time we took the opportunity to change things he didn't like and to implement things I thought he should do. He's always had the clubface closed, his shoulders have always been tilted, the swing has never gone around him, which it does now. That was the main change. His address position has always been poor. Darren always has had a lot of talent. He could stand on his head and hit the ball. Trouble was, one day wasn't the same as the other. What he's finding now is a bit more consistency. With trust and confidence, he may be someone like Vijay Singh. He may play better in his early 40s than he's done in his 30s.
Ever since being a top junior player in Ireland, confidence has never been a problem for Clarke. Heck, you would have to be confident in yourself to show up at the Irish Amateur Championship wearing pink pants. "The Cork Examiner writer, Charlie Mulqueen, saw him there and called him 'beautiful,'" says Brian Shaw, the head professional at the Doonbeg Golf Club who grew up competing against Clarke. "That nickname, Beautiful, stuck for a while."
There's an old Irish saying, "He's not backwards about going forwards." Shaw felt that it described Clarke perfectly, both for his zest for life and his gift for the game. "Darren would say if we are going out, we'll be hell-bent," says Shaw. "But he wasn't the sort to just go out on a bender. Then he'd practice for four straight days. He watched the pro golfers from an early age, kept his eye on them. He was always a step ahead of us. He was never intimidated by anyone." Not even Tiger Woods, whom he beat in a 36-hole match to win the Accenture Match Play. Woods and Clarke, who both used Butch Harmon as a swing coach at the time, have become friends. At the Ryder Cup in 2006, they embraced on the practice tee, Woods having lost his father, Earl, to cancer that year. "Tiger sent me a text message after I won [in Shanghai], but I'm not going to tell you what it said," says Clarke. "I will say that Tiger has been a very, very good friend. A really good friend."
Good friends, good family, good golf and the good life. Darren Clarke cherishes it all. Look for him to be smoking a Hoyo de Monterrey Double Corona on a fairway near you soon. His good life has returned. v
Jeff Williams is a Cigar Aficionado contributing editor.
Comments
1 comment(s)
DENNIS M THRASHER SR — BIRMINGHAM, MI, UNITED STATES, — July 19, 2011 12:03pm ET
---
You must be logged in to post a comment.
Log In If You're Already Registered At Cigar Aficionado Online