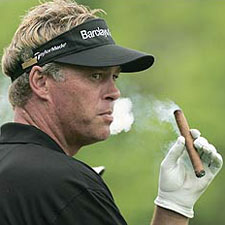 The Good Times Golfer
Darren Clarke is emerging from the grief over his wife's death from cancer in 2006, and beginning to regain his zest for life, and golf
(continued from page 1)
"People go through all sorts of stuff and I'm not the only one to be in this position," says Clarke. "Cancer has no respect for people. I'm not the only one to be affected by this. Unfortunately, mine was a much more public thing because of what I do and whatever success I've had. It was a very, very difficult thing to manage my emotions in public. People would always want to know what was going on. Getting inside the ropes, practicing and playing was a bit of an escape, yes. And a few times I didn't play that bad. But toward the end of rounds my mind would have trouble focusing and that was a lot to do with what was going on outside the ropes."
The single biggest test of his golfing career came just weeks after Heather's death. Captain Ian Woosnam offered Clarke a spot on the Ryder Cup team for the matches at The K Club in September. Clarke had not played well enough to earn the point necessary to make the team automatically, but Woosnam wanted Clarke to be competing in Ireland if Clarke himself wanted to do so. He didn't want to be a burden or just a popular choice, and for the weeks leading up to the emotionally charged event, he worked as hard as he could while attending to the needs of his children.
"The difficulty was in the space of five weeks getting him to stand on the first tee and have him perform," says coach and close friend Murray. "He didn't want to be a sympathetic pick. He discussed it with Heather in her final days and it was her wish that he play. The effort he put into that was extraordinary. I will ever be in awe of him for the sorrow, the kids missing their mum, Darren missing his partner, his life upside down, yet for eight hours a day he was able to honor her memory, to try to be in a position to play. When he beat Zach Johnson in the singles [the match that retained the Cup for Europe], his life on the golf course was effectively over. It was going to be the end for quite some time, and it was."
From that point on his number one priority was his sons. Perhaps more than any other athletes, golfers are selfish about themselves. The very best of players, no matter the amount of God-given talent, must still practice long hours to keep their skills sharp. They must also fulfill their endorsement obligations, talk to the media, sign autographs, give a part of themselves to the public. And Clarke was always so comfortable in the public eye, outgoing, gregarious, fun-loving. But now he had to be something else first and foremost—a father. "I can't be so selfish anymore," says Clarke. "The most important thing in my life is my two boys. Golf by nature is a very selfish profession. I've had to balance things up. I've gotten pretty good now about balancing time with my job and with my boys. The desire and determination is still there, maybe more so now. Heather wanted me to keep playing, not just for myself, but for the boys. She wanted some sense of normalcy. She knew things were going to change and she wanted me to go on as a professional golfer, which is what the boys knew me as." His life as a professional golfer could not be the same and really hadn't been the same since Heather was first diagnosed. "He'd be on the range and the phone would ring and he'd walk off under a tree," says his longtime agent, Andrew "Chubby" Chandler. "You knew it wasn't good. He pulled out of tournaments when Heather was going through treatments or big decisions had to be made."
Now he would have to do what Heather had always done: meet the boys' teachers, go to the school plays, the cricket and rugby matches. "I never did any of that," says Clarke. "Heather did it all. Now I do it, and want to do it." "He had to become a single dad, and I think he's done extremely well," says Murray. "Many would have thought he wasn't the guy to do that, but he sorted it all out. The boys are stronger and he's stronger."
And a sense of normalcy returns, which for Clarke is leading a rich, full life while getting back to the top of the game. He has a love interest, Kerry Schiller, a Texan who works in the human resources department of a London law firm. He has renewed dedication to his profession. And soon, he hopes, he will be smoking cigars on the golf course again. "I still smoke cigars all the time, but because my golf hadn't been so good until late, I thought it was a bit silly smoking cigars on the course," he says, relishing the thought of puffing on his favorite cigar, a Hoyo de Monterrey Double Corona—Cuban, of course.
He's got scads of them, and Montecristos and Upmanns and God knows what else in five humidors he keeps in his sprawling home on 13 acres in Surrey, outside of London. He grew up in Northern Ireland, but as a globe-trotting professional golfer he prefers to be near Heathrow Airport, where he can hop a flight to Dubai or Shanghai or New York or Johannesburg with ease. He always has a wine cellar stocked with plenty of first-growths, Latour, Margaux, and Pétrus being among his favorites.
"In cigars I like more mild ones, but I'll smoke the occasional Partagas," says Clarke. "My taste in wine would be bigger than cigars and my wine of choice would be Pétrus. People know I like cigars. I get handed them while I'm playing. I've been handed a lot of them in America. Johann Rupert [billionaire CEO of luxury brands company Richemont] gave me some pre-Castro Cubans. I don't know what they are. He said they were good and I didn't ask. I just took them out of his hand as soon as he offered them. It didn't take me long to grasp them, gently I may add. They are beautiful, beautiful."
Surely he must have a keg or two of Guinness in his home bar. "No. Deliberately no," he says with deliberate emphasis. "I'd be spending too much time at the tap."
While he's owned a slew of fancy cars, he says he's running low on them these days. "My everyday car is a Range Rover with an engine upgrade," he says. "I have a [BMW] M6 convertible and I have a Lamborghini in the garage as well. I had Ferraris and Mercedes and Bentleys. Sold them. Cars don't last that long with me. I get bored after a while."
Comments
1 comment(s)
DENNIS M THRASHER SR — BIRMINGHAM, MI, UNITED STATES, — July 19, 2011 12:03pm ET
---
You must be logged in to post a comment.
Log In If You're Already Registered At Cigar Aficionado Online