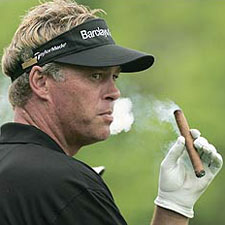 The Good Times Golfer
Darren Clarke is emerging from the grief over his wife's death from cancer in 2006, and beginning to regain his zest for life, and golf
Darren Clarke held on for a three-stroke victory in a thrilling Open Championship at Royal Saint George on Sunday. The victory for the 43-year-old golfer from Northern Ireland is particularly sweet. He won his first major and won the Open after 20 tries. The victory for cigar-loving Clarke is a new chapter in his interesting and difficult life. Three years ago, Cigar Aficionado profiled the golfer. Here is his story.
The laughs, the barbs, the back-and-forth, the "stick" were coming easily for Darren Clarke. The impish grins, the mocking glares, the talk of Guinness (oh, the talk of Guinness): the man was having a rollicking bit of "craic"—that's fun in common Irish slang—at his press conference for the Irish Open.
Later, on the practice range at Adare Manor, with coach Ewen Murray and caddie Phil "Wobbly" Morbey, he hitched up his pants as high as he could and stooped his shoulders to mock a certain well-known swing coach. "Hey, Westwood, who's this?" he shouted to close friend Lee Westwood hitting balls 20 yards away. "C'mon, who's this?"
"We like to have a bit of fun out here," says Clarke, without letting anyone else know who he is impersonating.
Which prompts this comment from Westwood: "Around Darren, anything could happen. It normally involves Guinness. He likes his Guinness."
Darren Clarke loves his Guinness as part of a life he loves. With the body of a bass, the voice of a baritone and the laugh of a tenor, the Irishman fancies fine cars, fine clothes, fine wine, fine cigars, fine food and a trout at the end of a fly line. He enjoys the company of captains, kings, competitors and caddies, embracing all in his big arms and big heart.
But when Clarke's 40-foot birdie putt on the 18th hole of the BMW Asian Open in Shanghai in April fulfilled its destiny by slamming into the cup, it meant far more than just another European Tour victory and a cause for a Guinness celebration. All the cars, the wine, the cigars, and yes, even the Guinness, hadn't meant nearly so much to Clarke since his wife, Heather, had been diagnosed with breast cancer in December of 2001. The trappings of the good life, and golf itself, didn't mean anything at all when she died in August of 2006, and hadn't meant all that much since. How could they when his two young sons, Tyrone and Conor, needed his love and attention far more than his golf game?
So when he hoisted the trophy in Shanghai, it heralded not only that his game was back, but that a substantial part of his life had returned, that a healing had taken place, that body and soul had recovered from a cruel blow. It wasn't easy coming down the stretch that Sunday afternoon. He missed shots and short putts when victory seemed as if it would be a breeze. "I lost my concentration and started thinking about Heather and the boys," he says. "It's been like that the past few years."
His father, Godfrey, and mother, Hettie, know that all too well. "It took him a while to grieve, to get beyond what happened, like anyone would," says Godfrey. "While we knew what the end would be, it still comes as a shock. One day she is there, the next she isn't. It's taken a long time to get over Heather. It's just the way it is."
All of his wife's travail, and the impact it had on his game, had to be played out in the glare of the public spotlight, and this for a player who is immensely popular. He wasn't winning because he wasn't practicing, and when he did, it was difficult to focus or find meaning in it. He won a tournament in Japan in both 2004 and 2005, but hadn't won a significant event on the European or PGA tours since 2003, and the promise of his game, most prominent when he beat Tiger Woods to win the Accenture Match Play Championship in 2000, had evaporated.
Comments
1 comment(s)
DENNIS M THRASHER SR — BIRMINGHAM, MI, UNITED STATES, — July 19, 2011 12:03pm ET
---
You must be logged in to post a comment.
Log In If You're Already Registered At Cigar Aficionado Online