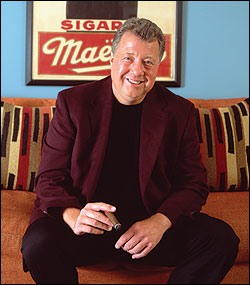 The Survivors
A decade ago scores of new cigar brands went on sale. Most are gone, but the few that remain have built a comfortable niche in the industry
(continued from page 6)
"It was like a mistake. It just happened," says the 44-year-old Chiusano, a small, athletic man with off-the-charts energy. "Slowly but surely the cigar business just sort of took over, so I wound up spending all my time doing cigars. We got really serious about it when the numbers started getting bigger."
Getting serious also meant improving the source of his cigars, which were made by three cigar companies at one point. Chiusano used his charms on Katherine Kelner, the daughter of Hendrik Kelner, to wrangle a meeting at the 1997 trade show. "I gave him a Cusano Hermanos Connecticut, asked him if he would smoke it and asked him if he could make it. And he smiled and said 'I can make it better.'" Kelner now makes all of Chiusano's non-flavored cigars.
Landing Kelner as a cigarmaker meant that Chiusano needn't spend half his time in the Dominican Republic doing quality control on the sundry cigars. "At that time you couldn't trust what factories put in boxes," he says. Working with Kelner gave him consistent quality, even if he ridiculed Chiusano's early orders. "Our first order was for 20,000 cigars," says Chiusano. Henke laughed. He said, 'I'm looking for customers that can do two million cigars, not 20,000, but I like the underdog,' " says Chiusano.
The underdog proved creative, and part of the success of Chiusano's cigar brand—which is now called Cusano—is untraditional thinking. Chiusano was probably the first to put bar codes over the cellophane on his cigars, improving retailer inventory. At a recent show, his busy booth had plastic shopping baskets with the Cusano logo for retailers ordering enough of his product. It evoked images of happy cigar smokers, loading a basketful of smokes rather than tiptoeing to a retail counter and trying not to drop fistfuls of singles.
After four years without profits, the cigar business began to succeed. The brothers Chiusano spent less and less time on investments, letting the business "whittle away." They did their last deal in 2000 or 2001.
"We like to be a small cigar company. Volume wise, we're getting up there. We're not an Ashton or anything, but we're getting to the point where it's becoming sizeable." He says he'll sell close to 5 million cigars in 2005.
The perceived demographic of the cigar market, Chiusano says, is "the male, age 35 to 55, makes $100,000 a year, college educated, owns his own home and smokes three cigars a week. We target the guy who smokes three cigars a day. 'Cause that's who we are."
After the lean years of the late 1990s and early 2000s, survivors like Chiusano are profiting from today's handmade cigar market, which grew more than 9 percent in 2004 and was poised for an equally strong 2005 as this issue went to press.
Some in the industry have even used the word "boom" to describe the market conditions. New cigars are entering the market at a pace not seen since the 1990s. Recent arrivals include Tabacalera Las Vegas Co., run by Gabriel Miranda, formerly with El Credito Cigars; Dona Flor, a new brand from Brazil made by Felix Menendez, which tested the waters with a $10-plus smoke at this summer's Retail Tobacco Dealers of America trade show; and Los Blancos Cigars, run by U.S. Army veteran David Blanco.
Some newcomers have even created some buzz. Ernesto Padilla, who once worked for Tabacalera Perdomo, has taken high scores with his Padilla 8&11 Miami Blend, which is rolled at El Rey de Los Habanos, a tiny factory owned by Pepin Garcia. The same factory is home to the Tatuaje brand, owned by the Grand Havana Room's Pete Johnson, a longtime cigar retailer who created a full-bodied blend of his own in 2003. Rocky Patel, who entered the cigar business in 1996 with a partner on the Indian Tabac brand, has found fame and high ratings making cigars in Honduras under his own name. (See the February 2005 story "Rocky II".)
You must be logged in to post a comment.
Log In If You're Already Registered At Cigar Aficionado Online