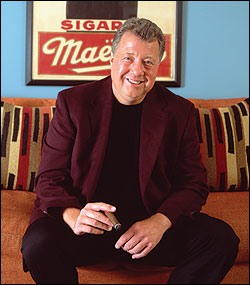 The Survivors
A decade ago scores of new cigar brands went on sale. Most are gone, but the few that remain have built a comfortable niche in the industry
(continued from page 5)
DREW ESTATE
Drew Estate was created in 1995 by fraternity brothers Jonathan Sann (aka Jonathan Drew) and Marvin Samel. Their first cigar was made in New York City, at Manhattan's La Rosa Cigars. It was a truly modest start. The duo's first trade show was in Orlando, in the summer of 1997, and Sann and Samel packed cigars and the company's trade show booth in a van and drove from New York to Florida.
The company soon outgrew the chinchalle in Manhattan, and turned to Nick Perdomo in Estelí to make a band called La Vieja Habana. Perdomo, who was in a smaller factory at the time, let Sann use some of his space. As both grew, Sann later set up shop in his own factory, and later still moved into Perdomo's old digs when Perdomo moved on to larger quarters.
Unlike many newcomers, and even some established cigarmakers, Sann took the bold step of spending most of his time in Nicaragua, where he has lived for nine or more months a year since the late 1990s. "At first, the tobacco growers didn't trust me because the boom had just ended and they saw me as just another gringo out to make a quick buck. When they saw that I was living inside the factory and I was relentlessly working hard every day, I began to earn their respect."
Sann had begun to make cigars with various flavorings, including rose petals and coffee. At the 1999 trade show, Drew Estate created an eye-grabbing booth with a chain link fence, colorful art and racing motorcycles, where it debuted the first cigar it made for itself, called ACID. (The brand isn't named for the hallucinogenic drug, but for the studio of a designer friend named Scott Chester, who owns Arielle Chester Industrial Design in New York.) The cigars, flavored with herbs and botanicals and with jazzy names such as Nasty and Kong Cameroon, were a hit. ACID soon established Drew Estate as the leader in the flavored cigar category.
Not that the company likes the term. "We don't use the "F" word," says Sann, who prefers the term "infused." Sann looks quite unlike nearly every other cigarmaker. At a cigar convention in early 2005, he sat in a crowded conference room wearing shorts, sandals and a white T-shirt. A large tattoo was quite visible on his calf. He was smoking one of his cigars, listening to someone in a polo shirt speak about taxation and its effect on the cigar industry.
Despite his appearance, Sann is a respected industry force. "He's probably one of the most creative guys in the industry," says Jose Blanco, marketing manager for La Aurora cigars. "He was way ahead of his time. Along with C.A.O., I think he's the biggest marketing genius in the industry."
Sann now makes the Kahlua cigar for distribution by General Cigar, as well as the coffee-flavored Java for Rocky Patel and the tequila-flavored Sauza. He also makes more traditional blends, without flavorings or infusions, such as Natural and La Vieja Habana.
CUSANO
Mike Chiusano was a Boston financial executive who liked to celebrate his big deals with his brother at Two Guys Smoke Shop. In 1995, he took a trip to the Dominican Republic, where he was handed an unbanded local smoke. He liked it so much he ordered 100 more. Using sheets of letterhead from his investment company, he fashioned a simple band, then proudly handed one to David Garafalo, one of the owners of Two Guys. The gift turned into the start of a business, and soon Chiusano had an order for 10,000 smokes. He registered a Spanish-sounding version of his last name, Cusano Hermanos, and he was in the cigar business.
You must be logged in to post a comment.
Log In If You're Already Registered At Cigar Aficionado Online