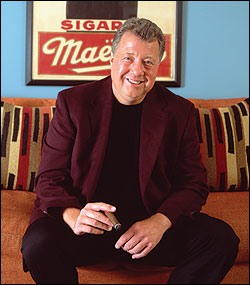 The Survivors
A decade ago scores of new cigar brands went on sale. Most are gone, but the few that remain have built a comfortable niche in the industry
(continued from page 4)
Oliva's puros—even its less expensive smokes—have done very well in Cigar Aficionado taste tests. The company's Flor de Oliva 10th Anniversary brand retails for less than $3. The Oliva O Classic Ole, which recently scored 92 points, sells for just under $6.
Jose Oliva, 32, shows a visitor around his headquarters, located in a quiet neighborhood in Miami Lakes, Florida. He lights an Oliva Master Blend and sits down in the smoking room, a luxe, spacious area with leather couches and a selection of his company's cigars. (Some of them are private label brands Oliva makes for retailers, giving them a special touch by printing colorful bands, posters and other promotional materials.)
The room is a comfortable oasis, and comes in very handy in Florida, but soon it will be dusty from construction. Oliva is expanding, here and in Nicaragua. The company needs more room in Miami Lakes to store cigars, and is adding 3,600 square feet, most of it dedicated to cigar storage. Oliva also hopes to finish construction of a second cigar factory in Nicaragua, this one in the tobacco town of Jalapa, which will be half the size of its factory in Estelí, which replaced a smaller factory in the same town.
Oliva says his company will make more than six million cigars in 2005.
"Even though we are a 10-year-old company, our heritage goes way back," he says. "We have a much longer history." His grandfather also grew tobacco, and now the company grows in Estelí, Condega, Jalapa and Sommoto, Nicaragua.
GURKHA
Kaizad Hansotia, a man everyone calls Kaiser, built his Gurkha brand by concentrating on what he knows best—packaging. "I have no pedigree in this business," he says with refreshing candor. On a trip to Goa, India, in the late 1980s, he discovered a cigar called Gurkha for the Nepalese warriors who famously fought for the British, brandishing thick knives shaped like boomerangs. Taken with the name, he bought the inventory and the struggling brand for a pittance: $143. "I didn't know anything about the company," he says. "I wanted to give cigars as corporate gifts."
When cigar sales began to rise, Hansotia struck a deal with Miami Cigar & Co. to bring Gurkhas to the U.S. It was 1995. "It just didn't do well, " he says. "There were so many brands out there."
Realizing he needed to do something different to garner attention, Hansotia decided to go his own route. He had cigars made for him, and packaged them with skills he picked up in his family's watch business. He realized a box could be a problem. "No one wanted a cigar in a box," he says. "They didn't have enough room." Undeterred, he came out with a line of flavored cigars in tubes with a standup countertop display that didn't take up valuable humidor space.
The small brand built an audience, and Hansotia is selling the cigars for quite high prices. One of Hansotia's latest creations, the Gurkha Titan, comes in a heavy, brushed-aluminum box with four hinged doors and black engravings. The cigars inside are made by the Toraños and cost $20 each. "We needed a cigar for a unique smoking experience," says Hansotia. The packaging is impossible to ignore.
Gurkhas feature some of the cigar world's best packaging. The elaborate bands are heavy on the gold and silver. At the center is a large image of a Gurkha warrior in a rare moment of calm, testing the edge of his oversized knife with a finger, a wry smile appearing from beneath his mustache.
You must be logged in to post a comment.
Log In If You're Already Registered At Cigar Aficionado Online