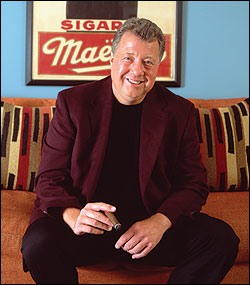 The Survivors
A decade ago scores of new cigar brands went on sale. Most are gone, but the few that remain have built a comfortable niche in the industry
(continued from page 3)
It wasn't easy to sell such a pricey smoke in 1998 and 1999. "What I was producing was more than I could sell," says Garzaroli. "People wanted to pay ten cents on the dollar."
He resisted discounting his smokes and called on an attitude honed from running a first-class restaurant: Be picky in the face of tough times. He also was able to subsidize the cigar segment of his business with his core business, and always had strong sales in the Bahamas, both in his restaurant and in the Atlantis Hotel.
"We had pretty good faith," he says. "A lot of cigars on the market were pure garbage. So I said, 'Soon these fellows are going to disappear.' "
Despite the high prices, Graycliffs are still selling in the U.S., and last year about 1.2 million cigars from the Bahamas were sent to the United States. Garzaroli, who is now 60, also sells in Italy, Switzerland, Russia and other international markets. "It's not that we have a million dollar buyer, but we have a lot of very good persons that put them in the hands of the right people," he says. "Now the cigar company is almost even with the restaurant sales."
OLIVA
Oliva Cigar Co. seems poised to step up into the ranks of the more established cigarmakers. The company has been making cigars for only 10 years, but the family (which is not related to Tampa's Olivas, who grow and broker tobacco leaf) has been growing tobacco for decades.
The Oliva Cigar Co. began modestly, with Gilberto Oliva Sr. making cigars inside one of the Honduran cigar factories owned by Nestor Plasencia. He debuted the Gilberto Oliva brand in 1995. It was made with a typical blend of the boom years: Dominican and Nicaraguan fillers, Dominican binder and Connecticut-seed wrapper grown in Ecuador. A year later, the family opened its first Nicaraguan factory, and shortened its brand name to Oliva.
The cigars didn't catch fire in the 1990s, and Oliva soon found itself making a little-known brand in the midst of an industry-wide cigar shakeout. With money scarce and the family unwilling to go into debt, the Olivas turned to Gilberto Sr.'s stocks of Nicaraguan tobacco.
"My father, as a grower, had a good amount of tobacco aging," says Jose Oliva, vice president of the company. "For one-and-a-half years, he carried us with his inventory of tobacco."
The Olivas were forced to make Nicaraguan puros, which improved the product. Impressed by the change, the family "never again" imported filler tobacco. It still imports some wrapper leaf, which is sometimes used as binder.
You must be logged in to post a comment.
Log In If You're Already Registered At Cigar Aficionado Online