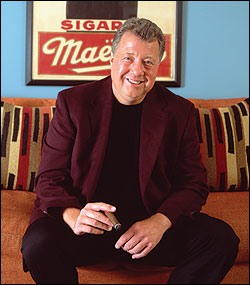 The Survivors
A decade ago scores of new cigar brands went on sale. Most are gone, but the few that remain have built a comfortable niche in the industry
(continued from page 2)
Kiki Berger began making cigars in Nicaragua in 1996. "When I first got here, it was the time the Sandinistas had just left," he said in Nicaragua in 2003. "The country was just starting to boom. I went from a little factory to building a bigger one."
Unlike many of his boom-time counterparts, Berger showed his devotion to his craft by investing in his business and setting roots in Nicaragua. (He even married a Nicaraguan woman.) He planted a field of tobacco directly next to his factory on the Pan American Highway in Estelí, Nicaragua, and built a curing barn.
"The only way you can have good quality tobacco is, number one, you have to grow it, and, number two, you have to cure it. I look at Padrón," he says, referring to his more famous neighbor, who often invites him over for coffee or drinks. "And I look at his success. You have to copy the best."
Berger once focused on making cigars for other companies, whichincluded boomtime brands such as Cupido, but now he's spending most of his efforts on his own products, specifically his Cuban Crafters brand.
Berger proudly shows off his property to visitors, highlighting outdoor seating areas he's having built to allow workers or guests some moments of relaxation. He's outfitted an office with two old barber's chairs, which he plops into, kicking out his feet, a plume of cigar smoke pouring from one of his dark puros.
GRAYCLIFF
Of all the brands to survive the cigar boom, one of the most unlikely has to be Graycliff. Scores of new brands were driven from the market when older, established brands were able to increase production, and consumers realized that the famous brands were often cheaper than the newcomers. But one of the most expensive cigar brands created during the boom is still on sale today.
Graycliff cigars are made in Nassau, the Bahamas, and they debuted in 1997 in the United States with eye-popping prices, up to $26 for one cigar. Few things are cheap in the Bahamas, and importing tobacco results in steep import taxes. Labor is also costly when compared with Central America.
Enrico Garzaroli created the brand after he came to Nassau by way of Como, Italy, in 1974, and bought the Graycliff mansion. The landmark was created in the 1720s, and Garzaroli turned the palatial retreat into a posh restaurant and hotel featuring exquisite dining and first-class service, building a wine cellar with a stunning array of bottles from around the world. "I tried to have wines the people had never heard about," he says. "The food is only a piece of the puzzle."
Garzaroli is a huge man with a personality to match, and a zest for the good life. He'd long loved cigars, and fashioned Graycliff into one of the world's more cigar-friendly places. Ashtrays seem to cover every flat surface. The restaurant did a large business selling Cuban cigars, and once had its own Casa del Habano. A dispute with the Cubans led Garzaroli to create his own cigar factory right behind his hotel. With the aid of Avelino Lara, who once ran Cuba's famed El Laguito factory, Garzaroli set up a small cigar factory featuring retired Cuban cigar rollers.
You must be logged in to post a comment.
Log In If You're Already Registered At Cigar Aficionado Online