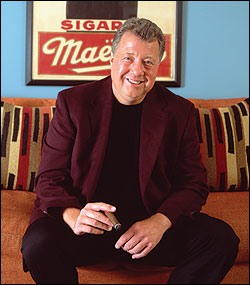 The Survivors
A decade ago scores of new cigar brands went on sale. Most are gone, but the few that remain have built a comfortable niche in the industry
(continued from page 1)
"Our original business plan was to provide cigars to golf courses. Our first product was called Bogie Stogies," he says. "Being a Florida boy, I didn't realize half the country doesn't play golf six months out of the year," he recalls with a laugh. "It was a bad business plan."
Rubin next tried selling Gourmet Dessert Cigars—flavored, handmade, Cuban-sandwich-style smokes—for around $2.50 each. The Florida-made cigars kept the company above water, but times were lean. Rubin didn't draw a salary, and the company was losing more money than he realized.
"On April 19, 1999, my partner left," he says. Rubin looked over the books and was shocked. "We were almost bankrupt. I went home that day and I said to my wife 'I don't know if I can pull us out of this mess.' "
Rubin decided to stick it out one more year, and try to make enough to at least get his company out of debt. That summer, he met Rafael Montero, who told Rubin that Hendrik Kelner, the maker of Davidoffs, could make him a cigar brand. Rubin asked Kelner to put his famous name on the smokes, and they created a brand named after one of Kelner's factories, Occidental Reserve by Henke Kelner. (It was later renamed simply Occidental Reserve.)
Famous name or not, breaking into the saturated 1999 cigar market wouldn't be easy. Bargain bins were bursting with unwanted smokes, and established brands, such as Macanudo, were no longer back-ordered in the millions. Rubin sent out 500 sample packs of Occidentals to retailers, making no mention of price. "We just asked them to smoke it," he says. Rubin then told them they could have the cigars in bundles for just over $1 each, and the cigars would have a suggested retail price of $2.50. Orders came in. It was a ridiculously low price for a long-filler cigar made by one of the big names in the business, but it was the only way for a desperate Rubin to get the brand accepted.
"I put it all on the line. We were coming off a flavored cigar with no other brands. This had to work," he says.
Occidental Reserve allowed Rubin to pay his bills and eventually get out of debt. Alec Bradley showed its first profit around the end of 2000. "Things are doing particularly well [now]," he said in September. "August of this year was our best month in our history. Our growth is in double digits."
Montero is still employed by Rubin, and Kelner makes four of his premium cigar brands, which include Pryme, Alec Bradley Trilogy and Alec Bradley Havana Sun Grown. The Toraños and Nestor Plasencia make some of his cigars in Honduras, as does Tabacos Puros de Nicaragua in Nicaragua.
Rubin plans on selling "a couple of million" cigars this year. "We're a profitable company, we still put a tremendous amount back in the business; we're growing the business. You have to have a long-term approach to this business. We feel [customers] always get more cigar than what they pay for."
CUBAN CRAFTERS
You must be logged in to post a comment.
Log In If You're Already Registered At Cigar Aficionado Online