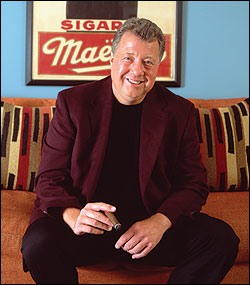 The Survivors
A decade ago scores of new cigar brands went on sale. Most are gone, but the few that remain have built a comfortable niche in the industry
The scene: a cigar dinner in New York City in the mid-1990s. A burly, goateed man wearing a blue suit walks up to two smokers, a simple, unvarnished box of cigars tucked under his left arm. He offers his right hand in a shake. "Doug Wood," he says with a small smile and a sleepy, friendly gaze. He launches into a casual, short speech about the merits of his cigar—one of dozens and dozens of unknown brands invading a booming market—and hands one to each of the men. It's a process he'll repeat over and over for years. • Nearly a decade later, Wood is still selling cigars. His La Perla Habana and Black Pearl brands, while hardly mainstays in most stores, sell well enough to earn him a living. That's more than can be said for many of his cigar-boom contemporaries, now long gone, off to try new businesses after their brands faded into obscurity. • Today's cigar industry goes beyond the giants Altadis and Swedish Match, the iconic Padrón and Fuente families, and hardy boutique cigarmakers such as C.A.O. and La Flor Dominicana. A number of companies survived the post-cigar-boom fallout through persistence, creativity and sacrifice. The following survivors have each crafted a niche in the cigar market.
LA PERLA HABANA
When Wood entered the cigar market in 1996 he couldn't rely on it as a sole income source and was forced to make ends meet as a driver for actors and producers in Hollywood. He also owned a stake in a Beverly Hills cigar bar. "It was difficult," he says, sitting behind a simple table at his modest booth at a recent trade show. His sister serves as spokesmodel and greets tobacconists, and a neighbor helps him take orders. His company, Burlwood Group Inc., has three full-time workers. "I can remember the days when I didn't have cable TV because they shut it off. I couldn't pay the bill. I'd like to say the company is rich. It's doing well. Now I have a beach house and things are good."
Wood survived in the shadow of the industry giants by treating small orders with respect. "Smaller retailers, that maybe couldn't get an account with Fuente, found us, and stuck with us. Mom-and-pop tobacconists," he says. "A lot of cigar companies that got in during the boom wanted to cash in. They weren't willing to send out the two and three boxes a month to the little customers. There were a lot of cigar companies that didn't want to mess with that."
Like many smaller cigar companies, Wood doesn't make his own cigars. The Toraño family makes his Black Pearls and La Perla Habanas in Honduras and Nicaragua.
Wood still specializes in small orders, finding a receptive ear in cigar shop owners with crowded humidors. The little shipments aren't feasible for bigger companies. Some cigar shops, says Wood, "can't do 10 different sizes, they can't do a bunch of everything, but they can take three or four of our best cigars. We make cigars one at a time, and we sell cigars one box at a time."
ALEC BRADLEY
Alan Rubin admits he has bad timing. He entered the cigar business in 1997, the year sales began to slow across the industry. "It couldn't have been worse," he says. "Most of the people who started when I did are gone."
Rubin, now 44, was an importer of bolts, nuts and screws made in China and Taiwan, and had success with a product built to meet hurricane codes. As business grew, he and his father sold the company for a comfortable sum that allowed Rubin's father to retire and gave Rubin the freedom to pursue a new field. "I just decided that whatever I did next was something I would enjoy, something I'd have a passion for. Something that wasn't a commodity."
A passionate smoker who has enjoyed cigars since his early 20s, Rubin incorporated Alec Bradley in 1996, naming the company after his two sons, and served a one-year consulting contract with the buyers of his company before selling his first smoke. He had no history in the business save for the fact that his father and grandfather once sold cigars and candy in New York City.
You must be logged in to post a comment.
Log In If You're Already Registered At Cigar Aficionado Online