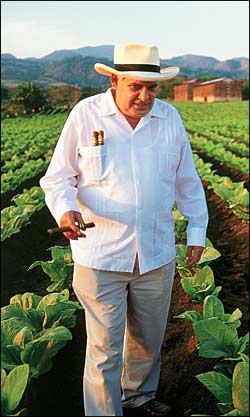 Patriarch Alberto Turrent got a humble start in the family business, driving tobacco trucks.
Te-Amo's Alberto and Alejandro Turrent
The father-son team that runs Mexico's largest cigar-tobacco operation and makes the famous Te-Amo brand discusses the family's 110-year history of growing in that country.
(continued from page 3)
Q: The seed?
Alejandro Turrent: No, the crop.
Alberto Turrent: The filler is 10 years old. It will be a very limited edition—we don't have a lot of it. To keep 10 years [of] tobacco and use that inventory, you must be a stockholder in the Bank of England. [Laughs.]
Alejandro Turrent: The '98-'99 crop, there will only be enough for 50,000 cigars. And for '99-2000, maybe 20,000 cigars.
Alberto Turrent: We will try to keep some bales. We're going to try to always keep it with 10-year-old tobacco.
Q: Tell me about the wrapper—you don't grow a lot of Corojo in Mexico, do you? Is this primed, or stalk-cut?
Alberto Turrent: Primed.
Q: Shade or sun-grown?
Alberto Turrent: Sun-grown.
Q: So this is your big thing for this year.
Alejandro Turrent: It's a little more full bodied.
Q: Does this cigar have a little bit of every tobacco you grow?
Alejandro Turrent: Yes. And soon we will have a version of A. Turrent 6 Generations with maduro wrapper.
Q: And how old will that wrapper be?
Alejandro Turrent: Again, I think about 10 years. But as we were looking for some tobacco, we found two bales, three bales. That will be very, very limited.
Alberto Turrent: It's an accident, to have all this old tobacco. Normally we ship to customers by containers. For maduro, a full container holds 120 bales. Maybe at the end of the crop, we produce 150 bales. So we can't ship 30, and we keep it. Then we looked at inventory, and we said, "Wow." Really, it was an accident.
Q: That's a happy accident. What's your favorite size cigar to smoke?
Alberto Turrent: Most of the time, I like robustos. I cannot smoke the big ones. The Churchill is too long—I love the robustos.
Q: And you?
Alejandro Turrent: 48 by 5—a robusto.
Alberto Turrent: I smoke all the cigars to taste them—but when I smoke for pleasure, I smoke robustos. When I go to a restaurant, and I don't have too much time, I might smoke a corona size.
Q: What is special about the tobacco grown in Mexico? What are some of the defining characteristics?
Alberto Turrent: It's sweet. It's very good for blending. It's not very dominant, the Criollo. And I think the Havana-seed tobacco is also very sweet.
Q: What about the soil?
Alberto Turrent: It's very rich, volcanic soil.
You must be logged in to post a comment.
Log In If You're Already Registered At Cigar Aficionado Online